Freeze-Frame/Tonight I'm Yours
This weekend, On The Turntable will feature two rock albums celebrating 40 years since their release. The program will begin with "Freeze Frame" from The J Geils Band and finish with "Tonight I'm Yours" from Sir Rod Stewart.
Freeze-Frame
Freeze-Frame is the tenth studio album by the J. Geils Band, and the last one to feature original vocalist Peter Wolf. The album was released this very weekend in 1981. It reached number one on the Billboard 200 in February 1982, and remained at the top for four weeks. Three singles were released from the LP in including the US #1 "Centerfold" and the title cut that reached number four on the singles chart.
The J. Geils Band was "The Party Band" in the seventies. They rocked arenas in Detroit every year and recorded their live album "Full House" at the Cinderella Ballroom. I attended that show. Freeze-Frame has the same foundational sound of the original "Bad Boys from Boston" – yet has a punch up pop sound. (Ss a side note … they were the 'Bad Boys from Boston' long before Aerosmith) Best Ever Albums Dot Com considers Freeze Frame to be the 74th best album of 1981 and the 598th best of the decade … Digital Dream Door Dot Com ranks the album 19th on their top 100 of the year.
Notable Tracks – "Centerfold" "Freeze-Frame" "Flame Thrower" "Angel In Blue"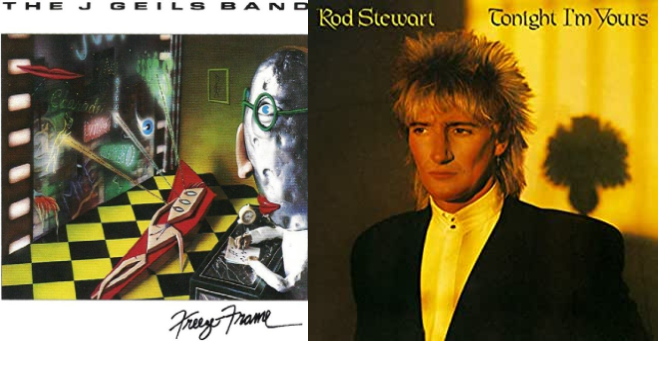 Tonight I'm Yours
Tonight I'm Yours is the eleventh studio album by Rod Stewart, released November 6, 1981. The album delivered three hit singles and saw Rod adopting current musical trends following his disco leaning LPs of 'Blondes Have More Fun' and 'Foolish Behavior'. The album reached number 11 on the Billboard 200 and platinum status.
This album is a perfect example on how views from the critics and the public can differ … Tonight I'm Yours received four of five star reviews from Rolling Stone and All Music; yet, Best Ever Albums Dot Com only ranks the album as the 391st best of 1981. Digital Dream Door does give the LP a little more love ranking it 34th on its top one hundred of the year. Side two features the top five smash hit "Young Turks" – Rod's crack at synth-pop and new wave.
Notable Tracks – "Young Turks" "Tonight I'm Yours" "How Long" "Jealous"
On The Turntable can be heard on The Rewind 97.7FM & 1330AM each Saturday at 6pm. Listen over-the-air, on line @ www.kvol1330.com and on The Rewind App. The program is also rewound each Sunday morning at 7am. Archived programs can we found on www.kvol1330.com.