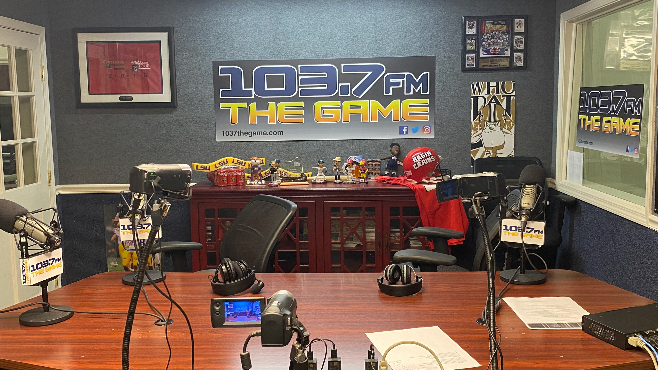 Ben Love enjoys interacting with listeners.
For the most part, that experience is having people call in to the The Game hotline with their takes on that day's sports news, but Love has long carried that interaction or experience rather while doing live remotes for his afternoon show Bumper to Bumper Sports on 103.7 The Game.
Love has broadcast his show remotely from the showroom floors of auto dealerships, to the quiet corners of popular watering holes and five-star restaurants to even conducting interviews on a balcony overlooking Champions Square outside of the Mercedes-Benz Superdome.
Every time Love asks for the listeners to swing by and join him to take part in the broadcasting experience. That was not the case this past week.
"I am no stranger to doing live remote broadcasts, but these have certainly taken on a different feel," Love said. "Usually I'm on the road telling listeners to come join me when they get off work. Now I'm urging them to stay the heck at home."
Love, along with all on-air hosts for Delta Media shows, had the broadcasting experience altered due to the COVID-19 pandemic. Delta Media ownership made the decision starting on Monday, March 23rd that all local shows would be done remotely in effort to do their part in social distancing and combating the spread of COVID-19.
"The decision to have our employees to work remotely was a very simple decision to make," Delta Media General Manager Chuck Wood said. "We have the technology to do so and the safety of the employees was of the utmost importance. Our thought process was that we could continue to serve our listening audiences with pertinent information and entertainment without sacrificing quality and keep our employees safe."
In a matter of a few days, the Delta Media staff put together a strategy for all stations featuring local shows to be able to remain on the air to provide local content during this surreal time.
"If you'd asked me a month ago, I'd have told you we didn't have the equipment for everyone to broadcast from home," Delta Media's Operations Manager and Director of Programming Charles Sagona said. "When it became apparent that precautions needed to be taken to protect our employees, we came up with a plan quickly. Our broadcasters have made the transition from studio to working from home and they have never missed a shift."
Making the adjustment from doing one's show from inside the studio to broadcasting from home has presented a few challenges — both technical and emotional.
"Broadcasting remotely has its ups and down," 106.3 Radio Lafayette afternoon host and brand manager Brigette Rose said. "I miss my coworkers and sometimes it's harder when you don't have people to bounce ideas off of. There's also a bit of delay which means you have to be extra prepared."
"I think like all adjustments, it would've been a little challenging," 103.7 The Game producer Louis Prejean said. "But there are plenty of people here that would have made the transition smooth. Nothing really beats being in the studio, though."
Having to broadcast from home also presents the challenge of having the proper amount of privacy to do one's show.
"I always thought it would be fun to work from home until I had to," laughed Z105.9 afternoon host Stephanie Smallwood said. "I am a single mom living alone with two kids. Working with children is a challenge.
"The other morning I woke up took a shower and got dressed," Smallwood added. "My daughter asked me where I was going? I told here to work and I closed my bedroom door. They totally ignore the do not disturb/on-air sign on my door and they want to eat all day long. I miss our cozy studio with the booking system and working in real time."
Even though there may be challenges with broadcasting from home, there are other perks of doing a show from your bedroom or office or kitchen table. For example, being able to do your show while wearing your pajamas.
"For me one of the big the perks has being able to be comfy in my PJs while I do my show," Rose said.
Having to conduct a show from home also means more time spent with families, as schools throughout the state have been closed by Governor John Bel Edwards until April 13th.
"It's been nice rolling out of bed and being right in my make-shift studio," RP3 & Company co-host Nick Fontenot said. "My family has had to adjust a little to me making racket early in the morning, but my kids get a kick out of dad doing a radio show right down the hall."
"It's been fun working from home because I get to spend more time with my son," Mustang 107.1 morning host and brand manager Tanya Ardoin said. "I have my studio set up next to a window. It has been nice."
The other component of all this has been that Delta Media hosts realize that they are in the same boat as many of the listeners who are now working from home too. Instead of listening while driving they are listening on their Amazon Echo devices or their favorite station's mobile app, so it is more important than ever to continue providing quality local programming for the listeners both informative and entertaining.
"I must say, it is very rewarding to know that our Hispanic listeners and viewers are receiving important information," El Sabor 87.7 FM/105.3 FM morning host and brand manager Marlen Juarez said. "Having a great team behind me for support makes all the difference."
"So there's a social responsibility aspect to it that stays top of mind," Love said. "But the way I see it, we not only have an obligation to inform the public, we also have a platform to entertain. We get the chance to lead by example. That's a pretty powerful combination. And, on the lighter side, the listeners now has the added benefit of knowing we're doing it all with two dogs in the next room over."