Eye In The Sky/The Innocent Age
This weekend's On The Turntable is featuring two soft rock lps from the early 80's …. The program begins with "Eye In The Sky" from The Alan Parsons Project … and will continue with Dan Fogelberg's "An Innocent Age" celebrating 40 years since its release.
Eye In The Sky
Eye in the Sky is the sixth studio album by the Alan Parsons Project, released this very month in 1982.. At the 25th Annual Grammy Awards in 1983, Eye in the Sky was nominated for the Grammy Award for Best Engineered Album. In 2019, the album won the Grammy Award for Best Immersive Audio Album at the 61st Annual Grammy Awards.  Eye in the Sky is the first of three albums the Project recorded on analogue equipment and mixed directly to the digital master tape.  Side one begins with the instrumental piece "Sirius".  It is best known for its use by the Chicago Bulls to introduce its starting line-up during its championship years of the 1990s and is still used today. 
Eye In The Sky was the last platinum album from the Alan Parsons Project … It also provided the band with their first top ten hit since 1977 … The album itself was a major success, reaching the top 10, and sometimes the number one slot, in numerous countries.  Best Ever Albums Dot Com considers Eye In The Sky to be the 26th best lp of 1982 and the 264th of the decade … Digital Dream Door Dot Com ranked the album 44th on its year-end top 100 list.
Notable Tracks – "Eye In The Sky" "Mammagamma" "Sirius"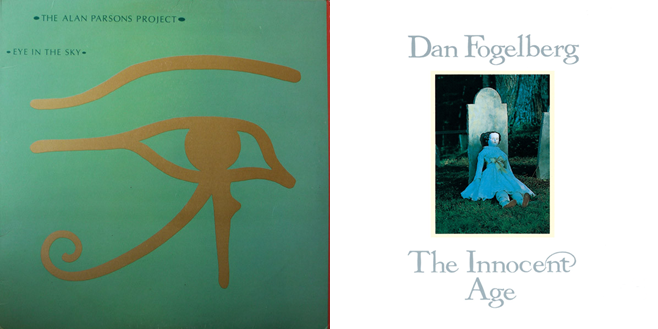 The Innocent Age
The Innocent Age is the seventh album from Dan Fogelberg, released in August of 1981.  The album is Fogelberg's most ambitious and successful album. The album delivered three of Fogelberg's four top ten records … two of which are on side one …. "Leader of the Band" and "Same Old Lang Syne." Side one also features the popular top twenty – "Run For The Roses."
Guest musicians for this ablum were the who's who of the California Rock scene … Joni Mitchell, Glenn Frey, Don Henley, Russ Kunkel and Emmylou Harris, among others, contributed. Side four features two interesting songs  … "Hard To Say" was Fogelberg's biggest hit reaching #7 on the Billboard Hot 100 … Glenn Frey sings harmony … "Times Like These" was featured in the soundtrack from Urban Cowboy.
Notable Tracks – "Run For The Roses" "Leader Of The Band" "Hard To Say" "Same Old Lang Syne"
On The Turntable can be heard each Saturday at 6pm and rewound Sundays @ 7am on 97.7 The Rewind. Listen over-the-air, on line @ 977therewind.com or on The Rewind App.