September 19, 1997
It was 22 years ago today that Elton John performed a very special concert at the House of Blues in New Orleans for the VH1 Storytellers series.  I was very fortunate, excited and thrilled to have two passes to this historic event sent to me.  This was going to be special.  I have been a life long Elton John fan, dating back to the first time I saw him in 1971 in Detroit.  By 1997 I had seen Sir Elton in a dozen concerts, including all three Goodbye Yellow Brick Shows at Olympia Stadium in Detroit.  And, I saw him with Eric Clapton at Dodger Stadium in Los Angeles.
But, for some reason this night had me more excited to see a show than normal.  I have seen hundreds of concerts in my lifetime, but seeing EJ up close and personal, hearing the tales between the tunes was going to be very thrilling.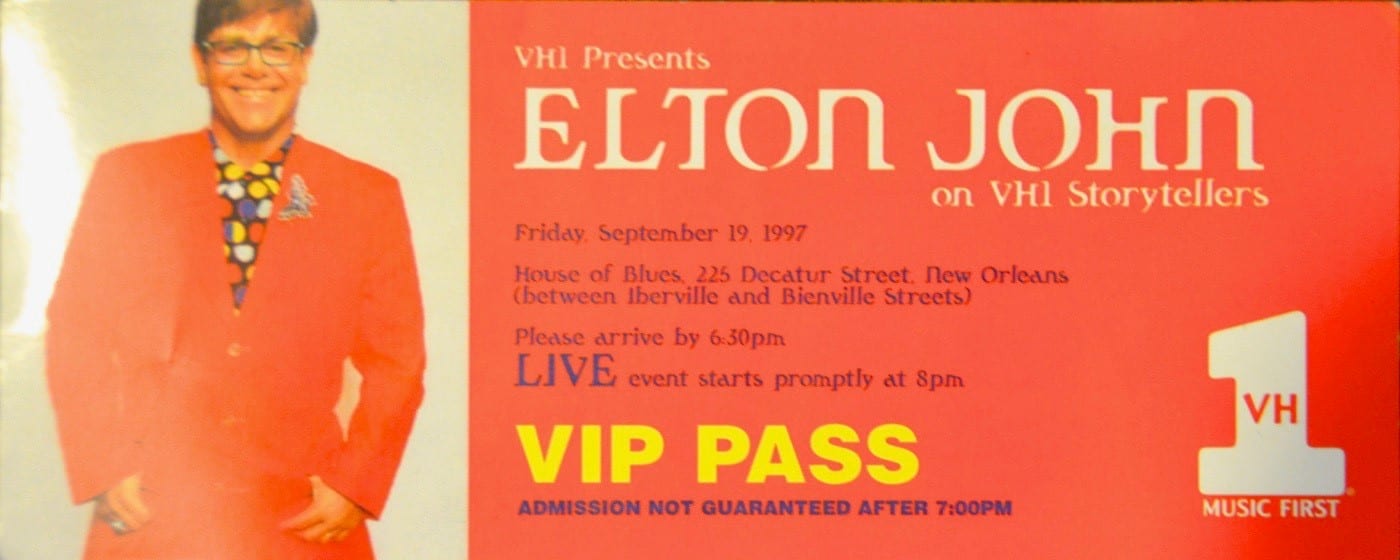 The show was fantastic, though waiting for commercials to air on VH1 because we were 'live' was a little odd for a concert…but, that was just the price of admission.
I was particularly excited to hear Talking Old Soldiers, Levon and Take Me To The Pilot …  These were songs that I had not heard him perform since the shows in 1971-1972.  You can find the entire show on You Tube.  Check it out.
The Set
Your Song
Talking Old Soldiers
I Don't Wanna Go On With You Like That
I Guess That's Why They Call It the Blues
Daniel
Levon
Something About the Way You Look Tonight
Long Way From Happiness
Bennie and the Jets
Sorry Seems to Be the Hardest Word
Take Me to the Pilot
Don't Let the Sun Go Down on Me