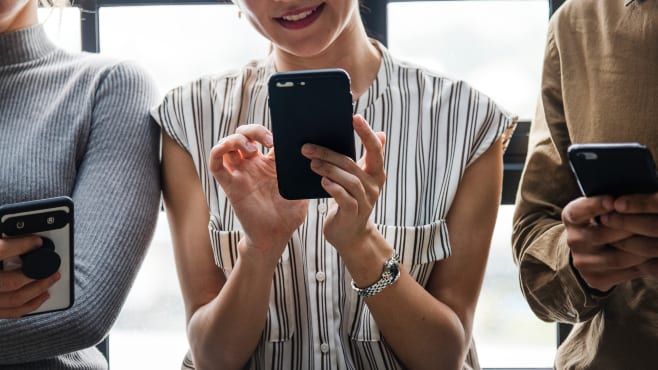 Smartphones are amazing little devices. They give us instant access to tons of information at the touch of a finger, they double as a GPS, a media player for movies and music, and enable us to capture audio and video with quality that we could have never imagined 40 years ago. People back in 1980 would probably see them as some sort of sorcery… But would we be better off if they had never been invented in the first place?
According to a new survey, 46% of people say they wish smartphones had never been invented because of how they've changed our lives… for the worse… I know what you're thinking. How can so many people think that about an amazing little device that does so much for us?
Let's start with our stress levels. Smartphones have enabled us to do many things faster and from literally ANYWHERE on the friggin' planet. That means as long as you have a smartphone, people expect you to have 24-hour access to things like email. Therefore your job may expect you to check them more frequently than they would have back in the days before smartphones were invented. Sometimes there are even repercussions for not responding in a timely manner during off time and on weekends. So essentially it's a neverending portal to hell… Sorry did I say hell? I must have meant a neverending portal to responding to your boss and co-workers about work… (okay, maybe "hell" was the appropriate word choice after all.) So, essentially, we can never relax.
The worst part is, it's not just emails. Alerts for messages, news, and whatever other notifications are constantly bombarding us, and we are afraid to ignore them because we are expected to respond fast because we have the technology to do so.
Something else negative I have experienced as a result of smartphones is a loss of navigational skills. When I had a flip phone, I simply obtained verbal or written directions and had to rely on paying close attention to my surroundings. I had a great sense of direction back then. Once I got a smartphone, I used my GPS because it was easier than getting directions and paying close attention to street signs and landmarks. Now, my sense of direction is absolute crap. I'd be in a bind if my phone suddenly gave out on a road trip.
One other minor negative thing I have experienced because of smartphones is the deterioration of human interaction. Have you ever invited friends over, and after about 30 minutes everyone is just looking at their phones? UGH! I know this makes me sound like a grandma (and I'm only in my 30s), but it's depressing to be surrounded by friends or family who are more interested in their phone than spending quality time together. People are more disconnected now than ever, but more connected to their phones, which makes them think they're "connected."
Personally, I feel like smartphones have somewhat ruined our lives because of the stress and expectations it has put on us, but in other ways, it has enriched our lives by providing powerful services with the touch of a screen. The device itself is not at fault, it's the way we use them that is to blame.