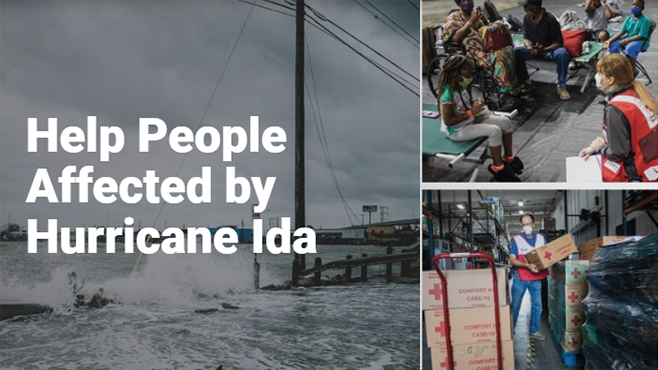 Ida left more than a million people without power where temperatures may hit 90 degrees today; homes and businesses are destroyed; cell phone, water and sewer services are down in many areas; roads are damaged or blocked; and many communities remain flooded.
The American Red Cross is there, working side-by-side with our partners to help people in need.
Officials have asked evacuees not to return to their homes until it is safe to do so. Officials say it could be weeks until power is fully restored. Many communities that are still recovering from the devastation of hurricanes Laura and Delta just a year ago are now facing flooded homes yet again along with another lengthy recovery effort.
FIND A SHELTER Anyone in the affected area that needs a safe place to stay should call 211, visit redcross.org, call 1-800-RED CROSS (800-733-2767) or download the free Red Cross Emergency app for shelter locations. You can also text LASHELTER to 898-211 or NOLAREADY to 77295. You can also check with local officials and monitor local news for information on where to find emergency shelter.
To help keep everybody safe, everyone in Red Cross emergency shelters is required to wear face coverings. In addition, we're using health screenings, enhanced cleaning procedures and encouraging social distancing.
We encourage people who plan to stay in a Red Cross shelter to bring prescription medications, extra clothing, pillows, blankets, hygiene supplies, other comfort items and important documents. Don't forget to bring any special items for children, such as diapers, formula and toys, or for family members who have unique needs.
Red Cross shelters are open to everyone in need, regardless of race, religion, gender identity, sexual orientation or citizenship status. All disaster assistance is free, and we don't require people to show any kind of identification to enter a shelter — just their name and where they were living before the disaster.
Make sure to include your pets as part of your emergency plan. The Red Cross is unable to welcome pets into our shelters for everyone's safety. If you are evacuating with pets, please consider visiting RedRover.org to view their resource list of pet-friendly lodgings and tips.
Experts point to climate change as being partially responsible for the rapid strengthening that Ida underwent before making landfall.
RED CROSS RESPONSE Our work is just beginning. Right now, we are focused on providing safe shelter, meals and comfort for people in need. We will be working side-by-side with our partners to help people recover for weeks and months to come.
Monday night, more than 1,500 people sought refuge in some 38 Red Cross and community shelters across Louisiana, Mississippi, Alabama and Texas.
Some 450 trained Red Cross workers are on the ground now with hundreds more traveling from all over the country to help. With the help of partners, the Red Cross has already provided more than 7,000 meals and snacks. Mobile kitchens capable of preparing tens of thousands of meals are being set up now with the help of the Southern Baptist Convention. In the coming days, dozens of Red Cross emergency response vehicles will begin bringing food and relief supplies to people across the region.
Trained Red Cross volunteers are helping evacuees cope as they await news about whether they will have a home to return to. Volunteers are also replacing prescription medications, eyeglasses or critical medical equipment, like canes and wheelchairs, which were left behind in the rush to get to safety.
While we do not typically serve hospitals in Louisiana, the Red Cross is standing ready to support and provide blood products as needed.
It's important to remember that responding to a disaster of this size is a team effort and no single organization can do it alone — this is particularly true in this current environment.
HOW YOU CAN HELP To help people affected by Hurricane Ida, visit redcross.org, call 1-800-RED CROSS, or text the word IDA to 90999 to make a $10 donation. Your gift is a commitment to helping people in need, and every single donation matters. Financial donations enable the Red Cross to prepare for, respond to and help people recover from this disaster.
GIVE BLOOD Through our national inventory system, the Red Cross has the ability to move blood around the country to wherever and whenever it is needed most. The Red Cross also urges individuals in unaffected areas of the country to make an appointment to give blood to ensure a sufficient blood supply remains available for patients. Schedule a blood or platelet donation appointment by using the Red Cross Blood Donor app, visiting RedCrossBlood.org or calling 1-800-RED CROSS (800-733- 2767).
VOLUNTEER If you have the time, you can make a significant impact as a Red Cross volunteer. Review our most urgently needed volunteer positions at redcross.org/volunteertoday.
SAFETY STEPS
If you evacuated, don't return home until local officials have declared that it is safe to enter your community and you have the supplies you will need. If your home was damaged by hurricane-force winds or flooding after the storm, it should be carefully inspected and thoroughly cleaned.
Avoid damaged or fallen power lines, poles, and downed wires. They can electrocute you.
Wear appropriate protective equipment including gloves, goggles and boots.
Clean and disinfect everything that got wet.
When cleaning heavy debris, work with a partner. Make sure that you have proper training before using equipment, such as chainsaws.
Heart attacks are a leading cause of deaths after a hurricane. Be mindful of overworking.
Do not touch floodwaters because they may contain sewage, bacteria and chemicals that can make you ill.
When in doubt, throw it out! Throw out food that got wet or warm. Ask your healthcare provider for guidance if you have refrigerated medicines that got warm.
Avoid drinking tap water until local officials say it is safe.

Evacuating:
If local authorities advise you to evacuate, go right away.
Bring your Go Kit.
Follow evacuation routes and do not try to take shortcuts because they may be blocked.

If you are using a generator, keep it dry and don't use it in wet conditions.
When inside your home, never use a generator, grill, camp stove or other gasoline, propane, natural gas or charcoal-burning devices. This also applies to your garage, basement, crawlspace or any partially enclosed area. Keep these devices outside away from doors, windows and vents, which could allow carbon monoxide to come indoors.
Operate the generator on a dry surface under an open canopy-like structure, such as under a tarp held up by poles.
Don't touch a generator with wet hands.
Turn the generator off and let it cool down before refueling. Gasoline spilled on hot engine parts could catch fire.
Plug appliances directly into the generator. Never plug a generator into a wall outlet

To find important flooding or power outage steps, visit redcross.org.
About the American Red Cross:
The American Red Cross shelters, feeds and provides comfort to victims of disasters; supplies about 40% of the nation's blood; teaches skills that save lives; distributes international humanitarian aid; and supports veterans, military members and their families. The Red Cross is a nonprofit organization that depends on volunteers and the generosity of the American public to deliver its mission. For more information, please visit redcross.org or cruzrojaamericana.org, or visit us on Twitter at @RedCross.