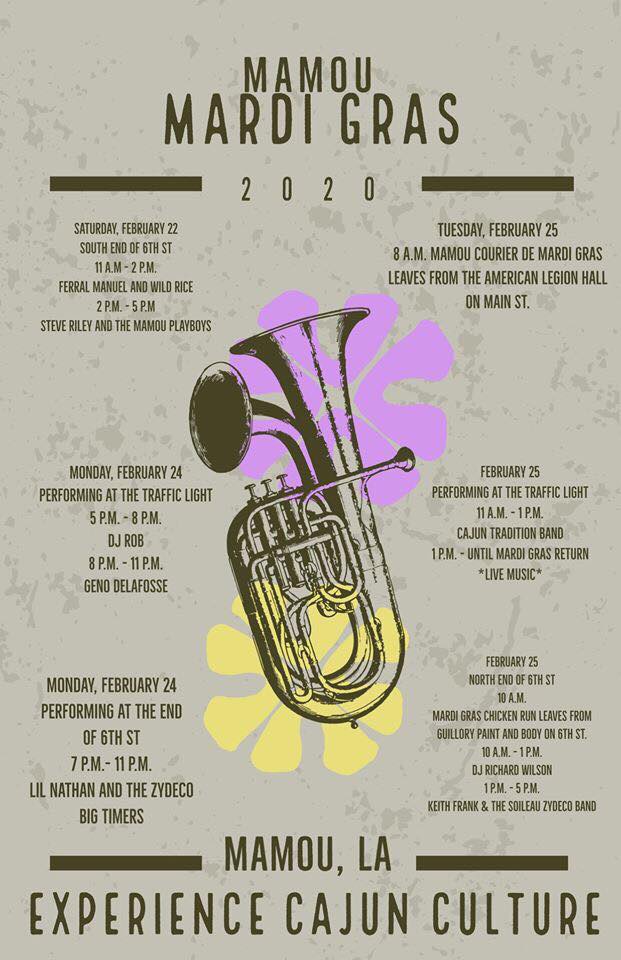 Everyone celebrates Mardi Gras in a different way. Some gather lawn chairs and children to catch beads and watch the floats roll down Johnston. Others head to New Orleans to the crazy parades. And there are some that get dressed up and wear a fancy gown to a Mardi Gras Ball.
In Mamou, Mardi Gras is celebrated with a Chicken Run. The Courier de Mardi Gras is an event that involves horses, live chickens, gumbo, music and lots of dancing. The Mardi Gras "run" departs early in the morning from the American Legion Hall on Main street in the Town of Mamou.
The "Mardi Gras" participant is usually dressed in a costume wearing a mask and riding a horse. There are several Mardi Gras Captains in the Courier de Mardi Gras. The Captain in the front carries a flag and leads the way and a co-captain rides next to him. The waving of the flag lets everyone know whether or not to proceed. Another captain rides in the middle and another captain rides in the back. These captains help maintain order. Behind the lead captain, is a cluster of Mardi Gras horsemen who follow the captain's direction.
Not everyone rides a horse, some sit in the back of a crowded trailer. There is usually one vehicle that is considered the "Bandwagon" which carries the musicians playing the fiddle, guitar, and accordion. The Bandwagon has loudspeakers so everyone can hear the French music being played. The route weaves around the surrounding areas of Mamou. At each stop, a chicken is donated and the runners have to catch it. Sometimes, other animals like ducks, or sheep are donated.
The ride eventually rolls through downtown Mamou and wraps up sometime after lunch. A band is playing music and parts of the street are closed off so people can dance.
If your interested in doing something different and old fashioned for Mardi Gras, head to Mamou, Louisiana in Evangeline Parish. You don't have to get dressed up. Wear comfortable clothes.
For more information: Town of Mamou