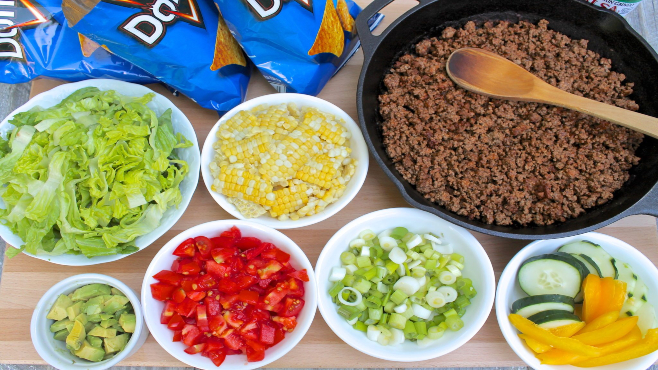 Mommy Moments with a quick dinner idea. Recently I was home for the first time in a very long time, when my kids Alpha 11, and Omega 9 got home from school. Being a good mommy, I had after school snacks, a fresh pitcher of Kool-Aid, and supper ready for them.
My children and I love to eat. I hate to cook. I have to feed these children every day. What is a mommy to do? Cooking dinner is the last thing you want to do when you get home from a long day. I have made it my new mission to do quick, fun, and nutritious meals. So join me on my journey to keep my kids happy and fed without the help and expense of fast food.
I recently discovered a "Walking Taco". I love it because there are no dishes to wash. The walking taco deliciously transforms a bag of chips into a taco in a bag. The ingredients make for an easy get it and go meal. The best part it's fun food and no mess. The kids will love it. This ain't your mama's Frito pie.
Walking Taco Recipe:
Homemade beef/chicken taco filling: Keep it warm in a slow cooker so everyone can serve themselves.
Individual serve bags Frito corn chips or Doritos nacho chips
Bowls of assorted toppings your crew will love, such as shredded cheese, chopped tomatoes, shredded lettuce, sliced jalapenos, sour cream, chopped onions, salsa, corn or whatever you like. Be creative.
Crush the chips in the bag before adding the toppings so the Walking Tacos are extra easy to eat. Add a fork and dig in. Enjoy!