Abbey Road & The Beatles For Sale
It was fifty years ago today ….. The Beatles Abbey Road was released September 26, 1969 in the UK and October 1, 1969 in the US.  This has always been my favorite Beatles lp.  And, it was because of the side two medley.  I own this lp in every conceivable format, including the FLAC Pewter Apple USB – (pictured below)
Abbey Road 
Released in 1969 – This was not favored by most critics, however it is now considered, by me and many others, as their greatest, if not, their most famous lp.   Abbey Road was the eleventh and last lp to be recorded by The Fab Four, though Let It Be was the last to be released.
Abbey Road sold over four million copies in its first two months of release … In the UK, Abbey Road debuted at #1 and sat there for eleven weeks where it was displaced for one week by The Stones' "Let It Bleed" … It returned to #1 Christmas week 1969 and was then displaced seven weeks later by Led Zeppelin II … Those are some mighty potent lps … Abbey Road has sold over 31 million copies worldwide … The album became the ninth-most downloaded on the iTunes Store a week after it was released there in 2010 .…. Best Ever Albums Dot Com considers Abbey Road as the #1 lp of 1969 and the #1 album of the 1960's … The album is also featured in the book "1001 Albums You Must Hear Before You Die."
Notable Tracks – "Something" "Here Comes The Sun" "She Came In Through The Bathroom Window" "Come Together"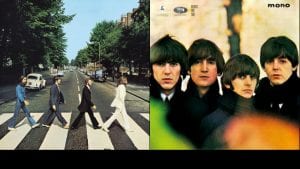 Beatles For Sale
Released in 1964 – This was the fourth lp from the Beatles – The fourth in two years!  The album marked the departure from the upbeat tone that had characterized the band's previous albums … recorded and released during the touring and radio engagements … The Beatles turned inward while their sound moved forward …The lp features eight Lennon/McCartney originals and six covers …  Here is an interesting tidbit The Beatles For Sale was given five stars from The Rolling Stone Album Guide, where Abbey Road was only given four and a half stars ..
During the program we will feature the original UK released on the Parlaphone label … The Beatles For Sale was not released in the US until the 1987 CD release… The US release was Beatles 65 which omitted Eight Days A Week because it was released as a single in early 1965 … Best Ever Albums Dot Com considers The Beatles For Sale as the fifth best album of 1964 and the 81st best of the 1960's.
Many of these songs were featured in The Beatles TV show that aired from 1965-1967.
Notable Tracks – "Eight Days A Week" "I'm A Loser" "Words Of Love" "I Don't Want To Spoil The Party"