On The Turntable – The Band/Through The Past Darkly (Big Hits Vol. 2)
This weekend we celebrate two 50 year anniversaries of classic vinyl.  Today we start with the eponymous second lp from The Band – We follow that with another 50 year anniversary … It is actually the second greatest hits compilation from The Rolling Stones.  Though The Past, Darkly (Big Hits Vol 2.)
The Band – 
I was fortunate enough to see the Bob Dylan and  The Band 1974 Tour on February 2, 1974 at Crisler Arena in Ann Arbor.  I was a fan in 1969 when this album was released.  However, I became a disciple after witnessing this show.  Also known as "The Brown Album," it has been looked at as a concept album due to it's content of historical Americana …
The album peaked at #9  on Billboard's Pop Albums chart. However, showed its staying power and popularity when it charted at #10 on Billboard's Internet Albums chart 31 years later.
besteveralbums.com considers The Band as the 10th best album of 1969 and the 35th best of the 1960's.  The Band is also listed in the book – 1001 Albums You Must Hear Before You Die.
Notable Singles – "The Night They Drove Old Dixie Down" – "Rag Mama Rag" – "Up On Cripple Creek" and King Harvest (Has Surely Come)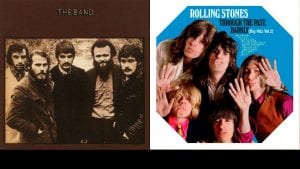 Through The Past Darkly (Big Hits  Vol. 2)
The interesting back story to this album is – Through The Past Darkly (Big Hits Vol 2)  was spawned by three coinciding events …  The need to get the monster hit,  "Jumpin Jack Flash" on an album … the need to acknowledge the death of  Brian Jones, whose epitaph is printed inside the gate-fold of the lp and the need to fill the ten month gap between Beggar's Banquet and preparation of the upcoming first American Tour in three years ….
There were two versions released in 1969.  One in the UK and another in the States.  The first Big Hits lp in the UK featured some of the Aftermath songs, the US version did not; therefore they are featured on the US version of this lp… On The Turntable will feature a 180 Gram Clear Vinyl reissue of the US release.  This is a rocking good lp.
Key Tracks – "Paint It Black" – "Jumpin Jack Flash" – "Street Fighting Man" – "Honky Tonk Women" – 'Let's Spend The Night Together"
On The Turntable will air at 3pm this Saturday to make room for The Astros game.  It will rewind on Sunday at 7am.