November 30, 1973 – The Who – Quadrophenia Tour – Cobo Arena – Detroit, MI 
It was 1973, and at this time I had already seen many of my favorite bands –  The Stones, Elton John, Deep Purple, Yes, Jethro Tull and many more … I never saw or would ever see my favorite band The Beatles … and, I had not seen my second favorite band –  The Who.  I had been a fan since the mid sixties with the release of "I Can't Explain" ..
The opportunity was now …. The  Who were coming to Detroit to promote their new lp, the Rock Opera Quadrophenia … and I was going to be there!
Tickets went on sale on a cold rainy October day at The Michigan State Fairgrounds.  (This was way before Ticketmaster.)   I cannot remember the exact day, however, I do remember we camped out in the rain all night to get our best seats that wen ton sale at 9am.  We were the fifth in line.  As you can see, we snagged main floor seats!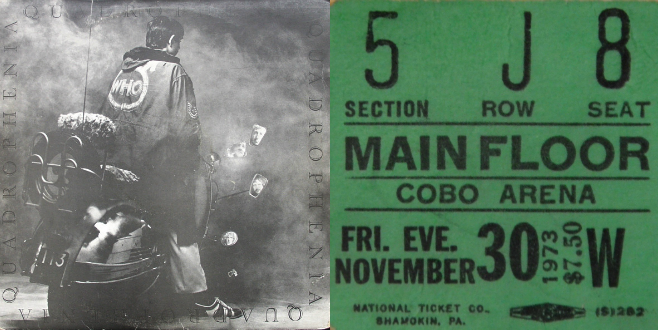 The show was incredible .  The sound set-up for Quadrophenia was in quad.  There were speakers on each side of the stage and also in the back of Cobo Arena … and it was loud!  The Who hit the stage with "Can't Explain" my favorite Who song. and followed that with Summertime Blues… Then came Quadrophenia.  The Who performed 22 songs in all, including three encores that included 'Magic Bus' –
Cobo Rocked!  It was an explosive performance.  Pete Townshend, with his wind-mill guitar moves … Roger Daltrey slinging his microphone … Keith Moon attacking his drum kit  like only he can … and John Entwhistle standing in the background ever steady on the bass …. it was a show to remember.
This concert set the standard on what a great show should be, for me.  Not many have lived up to this standard … McCartney, Springsteen and Seger are a few that have.
Be on the lookout for the new Who lp simply titled – "Who" – which releases December 6th.  And, it will be released in vinyl!
The Set List
"I Can't Explain"
"Summertime Blues" 
"My Wife" 
"My Generation"
"I Am the Sea"
"The Real Me"
"The Punk and the Godfather"
"I'm One"
"Helpless Dancer"
"5.15"
"Sea and Sand"
"Drowned"
"Bell Boy"
"Doctor Jimmy"
"Love, Reign o'er Me"
"Won't Get Fooled Again"
"My Generation"
"Pinball Wizard" 
"See Me, Feel Me"
"Magic Bus
"Naked Eye"
"Let's See Action"