It was mid November, 1974 – There was not a hotter ticket than Elton John … A year following stupendous Goodbye Yellow Brick Road lp and fresh off the release of Caribou (June 1974) – Elton John was coming back to  Detroit!  Three nights!  Olympia Stadium!  This was exciting!
I bought tickets for and attended all three nights!  An three incredible nights they were.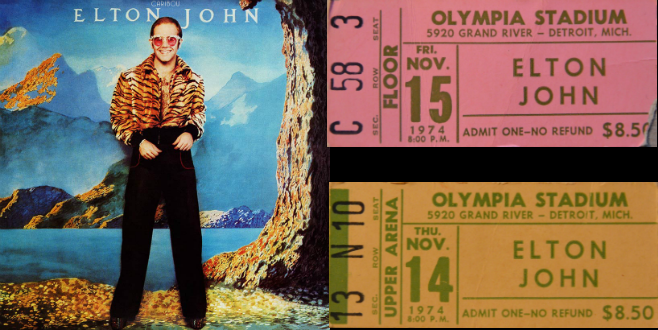 I had been a fan of Elton since my senior year in high school.  Madman Across The Water was a staple on my turntable.  I listened to Madman hundreds of times with my headphones on and the volume high.  I saw Elton at Ford Auditorium, Cobo Hall (Honky Chateau Tour) and I couldn't wait to see him now.
Of course, Elton was true showman.  Each night the songs were the same – the costumes were not.  One night he entered the stage with feather boas… the next night with his illuminating glasses (That spelled ELTON) and the last night he came out in leather with multi-colored balls extended wires — Shear craziness.
And the music – incredible – Elton Rocks – His band – Nigel Olsson, Dee Murray and Davey Johnstone were joined for this show with percussionist, Ray Cooper.  Nineteen songs – Three hours of incredible rock and excitement.
I still own two of the ticket stubbs (I have no idea what happened to the stuff from the 1st show)
Here is the setlist –  (As I remember it!)
Funeral for a Friend/Love Lies Bleeding

Candle in the Wind

Grimsby

Rocket Man (I Think It's Going to Be a Long, Long Time)

Take Me to the Pilot

Daniel

Grey Seal

Goodbye Yellow Brick Road

Burn Down the Mission

You're So Static

Lucy in the Sky With Diamonds

Don't Let the Sun Go Down on Me

Honky Cat

All the Girls Love Alice

Saturday Night's Alright for Fighting

Encore:

Crocodile Rock

Your Song

The Bitch Is Back
And how about those prices?  $8.50!  Three Elton John Concerts for $25.50!