John Entwistle's Ox – Mad Dog Tour – Masonic Auditorium – Detroit, MI – March 2, 1975
Roxy Music – Country Life Tour – Ford Auditorium – Detroit, MI – March 3, 1975
I grew up and lived in Detroit until I moved south in 1978 (I needed the warmer temps and more golf in my life.) It was an incredible time to be in The Motor City, especially if your were into Rock and Roll.
The winters are quite brutal in Michigan. As a kid, I lived for the winters – hockey, skiing, sledding, shoveling snow to make money and – Snow Days! As an adult – it becomes less fun and more of a hassle.
Now what did make winters more fun was the beginning of the Rock and Roll tours that would begin in late February … Every great band hit Detroit, many times with multiple shows. Detroit is a great Rock and Roll town. The Who played their first American show in Detroit. I witnessed Rush's first US concert at The Michigan Palace in Detroit. It was really a great place to see shows. And the winter time was a great time … what the hell else is there to do when it's 10-degrees? Go bowling? (BTW – Blowing is big in the Motor City.)
March 2nd and 3rd 1975 was an opportunity for me to see two very good shows, back to back during a very cold winter period in Detroit and I thought I would share them with you. Both shows were uniquely different and I would think very off the cuff for many …
John Entwistle's Ox – Mad Dog Tour
In 1975 there were times would key members of major bands would take a break and do their own lp, or sit in on a tour, or create another band … This was the case for The Ox, John Entwistle, the bassist for The Who. John created his own band during a break, produced an lp and did a few shows during a short tour, 19 shows, to promote the lp. The show was opened by another artist doing his own thing – Joe Vitale's Madmen was group created by the former drummer of Barnstorm (Joe Walsh).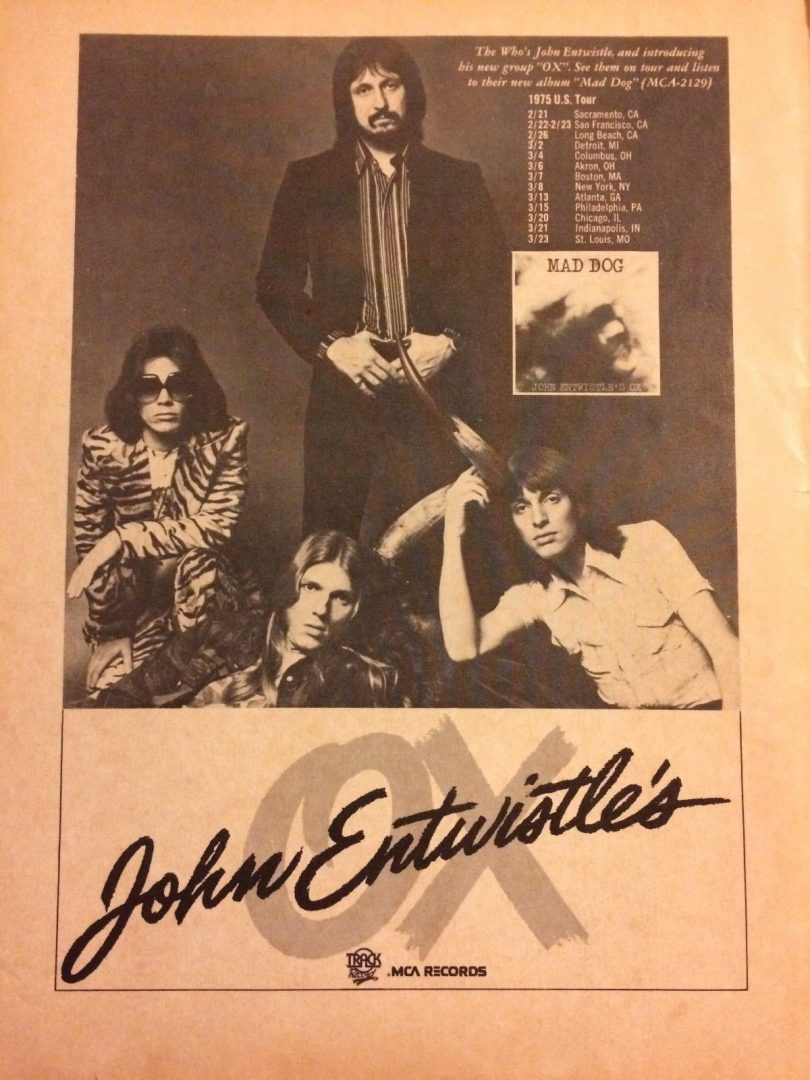 The Who are one of my favorite bands and just two years prior to this show I witnessed The Quadrophenia Tour which, to this day is still my favorite concert of all time. And, if you know me, you know I have seen a few …
The chance to see John Entwistle was exciting for me .. It was bitterly cold this winter evening in The Motor City … and The Ox did not disappoint … Most of the show featured tunes from his first two solo lps and Mad Dog, however, he performed all of The Who songs that featured him a the vocalist. This show was a real treat for a The Who fan, and being at Masonic Auditorium was the perfect venue.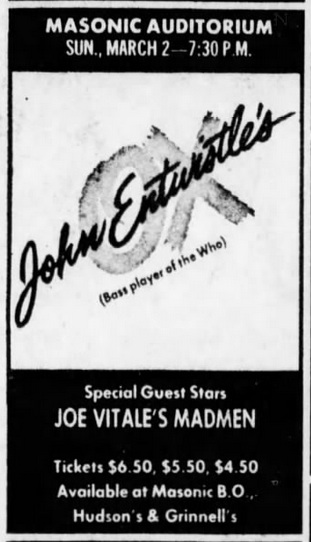 Roxy Music – Country Life Tour – Ford Auditorium
Country Life was the fourth lp from Roxy Music and the announcement of this concert thrilled me to no end. This was to be my first Roxy Music Concert … I became a fan just a year earlier when I heard 'Mother of Pearl' from the Stranded lp on CJOM-FM a Windsor, Ontario, Canada underground FM Rock Station. I was hooked. I ran to Harmony House and purchased all three of the band's lps and bought Country Life the day it was released.
I have been a life long fan of Roxy Music and Bryan Ferry ever since.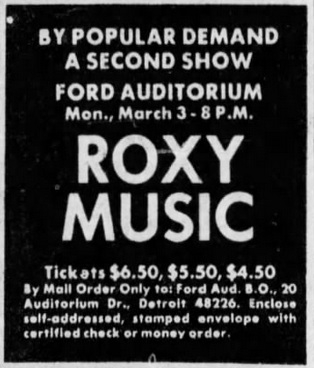 The show was incredible. This was actually a 'back by popular demand show'. They performed just a week earlier on February 24th. Roxy Music is an incredible band in concert. The show being at Ford Auditorium was a plus. The venue was the home of The Detroit Symphony Orchestra (it no longer exists), the sound is incredible. Here is an interesting note – notice that the tickets had to be ordered by mail.
Bryan Ferry is a very unappreciated front man. Roxy Music is credited as the creators of Glam Rock. He performs in a tux with a style and grace like Sinatra, though is unique voice makes him very different.
Setlist
Prairie Rose – Mother Of Pearl – Out Of The Blue – A Song For Europe – Three And Nine – If It Takes All Night – Bitter Sweet – If There Is Something -A Really Good Time – Casanova – All I Want Is You – Virginia Plain – Editions Of You – The Thrill Of it All – Do The Strand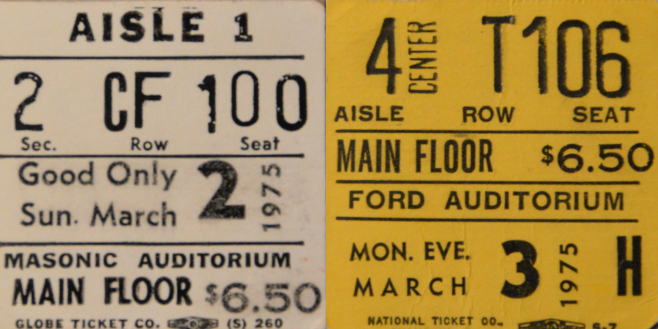 Two incredible shows – back to back – the total cost for both shows in 1975? $13.00 – Now that's Rock and Roll – and I like it.