It seems like the wait was so long but without much fanfare, the long-awaited opening of Linx Specialty Meats took place in the old Burger King building off US 90 West in Broussard.
For some, this may not be any earth breaking news but for this contributor, it is big news since the location is very convenient as it is right off my drive to and from work. So what do you do when a new food establishment opens up near your house. You know what to do. You stop in and be nosey.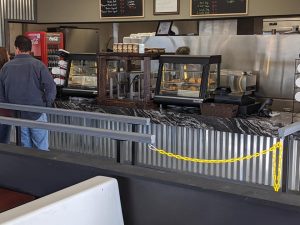 First, the restaurant has the aroma of delicious food being freshly cooked. Now you're hungry!  Then you notice the time and effort to give the restaurant and meat market a very down-home look and feel. You can not help but notice the wall of cold meat display cases where you will find everything from pork chops, chicken, alligator, roasts and just about any meat for the grill or oven, you'll find it on the wall of meat.
I am a Cajun and this is the area where I was raised. I have enjoyed many tasty links of boudin in my time in Acadiana. This is honest to God's truth when I say the best boudin I have ever place between my lips was last week at Linx in Broussard. I was blown away. How can this boudin be so good? I thought maybe I was either very hungry or something. Come on' this is Cajun country. Of course, we have establishments who serve up very good boudin. And I am not an authority on boudin but I am an authority on the boudin I eat. And I eat a lot of boudin.  I was thinking I was maybe too hungry on that particular day and I needed to have another sample of boudin, after all, I am doing research for this story and I needed to be sure I was actually tasting what I was tasting.
My second visit was on a weekday, I had lunch about 90 minutes earlier. I'm not hungry I'm not full. I cleansed my mouth with fresh water. To be clear I am not trying to sabotage the boudin. If I am going to print this is the best boudin I have ever tasted, I wanted to make sure this actually was the best I have ever tasted. Again, I get greeted with a smile and ordered my boudin. They will even cut the link into smaller links if you desire.
I'll be damn! Again, this is delicious. I had to return to the counter and express my satisfaction with how delicious the boudin is. It's not too spicy and I hate mushy boudin links. I told the nice lady I don't know why but this is the best boudin I have ever tasted and what is the key? She simply said, " our guy is a miracle worker". I don't know what that means, but I do know this boudin is good.
Linx Specialty Meats offers so much more. Daily plate lunches even on Sunday and for the price you also receive a drink. Smoke meats, tasso, chicken and regular cracklins, boudin balls and I did not try this but it is on my bucket list. I saw on the menu Linx has boudin cheese nachos. Are you kidding me?
And it's no wonder Linx is delicious. This is not their first meat shop. You'll find another store 15631 US-190, Opelousas, LA, and another store coming soon along U.S. 190 two miles east of I-49 between Opelousas and Port Barre on March 1.
To make sure I wasn't crazy, I notice and man and his wife leaving the restaurant after they completed their meal. His name was Ray from Coteau. I asked him how was his meal
My wife got the stuffed pork roast and it was awesome! Very tender, the seasoning was spot on and flavorful highly recommend!  Spicy and garlicky! I'd go back for seconds but you would have to watch me take a nap! Talk about good!
It seems like Linx is on to something that Acadiana finds delicious. The hours in Broussard have the store open every morning at 6 am except on Sunday's where 9 am is the time posted for opening.
It is well worth your time to make the short trip and if you have the boudin cheese nacho's before I do please let me know how they are. I bet they are good!