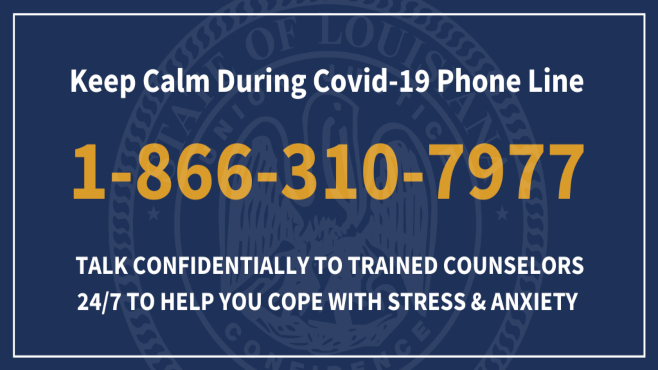 There is no shame in stress and anxiety at any time, but especially during this unprecedented COVID-19 pandemic, extra anxiety and stress are to be expected for many people. There are so many out of work, there are so many worried for themselves and their loved ones, and with Social Distancing, many people can't talk to their usual confidants with the ease we once had.
I found this number on the Lafayette Consolidated Government page and thought I might share it, but when things started hitting me a little extra hard last night, I decided to call the number for myself.
I called 1-866-310-7977 just after 2am. I entered my zip code and was quickly connected with Byron. Poor Byron had barely had the chance to speak when I started babbling on about the long list of troubles and worries I'm having during this time. Byron listened attentively for several minutes, finally, I finished my long list and Byron said, "Can I get your name please?" Sweet Byron listened to the ramblings of a stranger for about 5 minutes, not interrupting, just letting me vent. But then, when he had my name and finally got the chance to reply, he pointed out things to me that I may not have thought of, gave me some new perspectives, and pointed out several lights at the ends of tunnels I had not yet recognized. Just to be heard was something, but then to be given reasonable, calm advice, it was so soothing and I could feel the knot that's been growing in my chest start to ease up.
If you could use someone to talk to about the considerable stress and anxiety many of us are understandably experiencing at this time, please don't bottle it in, or you probably know someone on Facebook or Instagram that may need to know about this service during this time. Please call or encourage someone who could use it to call 1-866-310-7977.
#DoTheFive #ComeTogetherWithoutGettingTogether
Morgan@1063RL