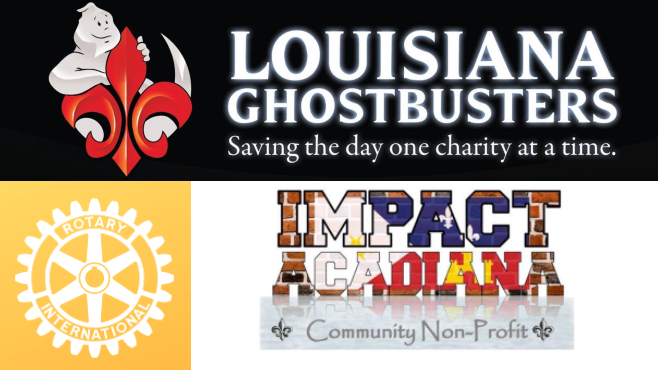 People's lives have been blown away by a hurricane of the worst order. You can win a trip to Disney during the holidays and other great prizes if you help. Got your attention? Read on!
People on the Louisiana/Texas border need help and they need it immediately. People are trying to pick up the pieces after seeing their cities and homes literally blown apart. Power will not be restored to some for potentially months. Houses are imploded or exploded by tempestuous winds. Rain and mold damage is taking over. The worst heat and humidity of the year is putting people into heatstroke. Rot and decay are setting in. Roads are covered in snapped power lines. Infrastructure is fragile at best.
They need ice. They need water. They need food. They need generators. They need tarps to try to save what's left. They need medical care. And they need it YESTERDAY.
Impact Acadiana and the Louisiana Ghostbusters are here to answer the call. Paired with various local organizations, this 501c registered Non-Profit organization (Impact Acadiana) is working to swiftly get relief funds to local and trustworthy organizations in the Lake Charles area as soon as possible.
To make supporting this need even more enticing, we are offering an unbelievable donation incentive in the form of a DREAM TRIP TO WALT DISNEY WORLD valued at $5,000.
Here's how it works:
THE DIFFERENCE YOU MAKE
The Louisiana Ghostbusters and the Louisiana Giving Back Cosplay Alliance, trusted charity-driven fan groups for over 10 years throughout the Gulf Coast, will be supporting the following Charity to which ALL PROCEEDS will go: *Rotary District 6200 Disaster Relief
Impact Acadiana and it's additional partners will be supporting these additional local organizations:
Catholic Charities of Southwest Louisiana
United Way of Southwest Louisiana
Convoy of Hope-10 Million Meals Program
True Talent Sports "Cajun Angels"- Cooking and Feeding for local citizens in recovery
Supporting these organizations will make a huge impact, but we also want to give back to our supporters so Impact Acadiana has put together this amazing donation incentive:
THE ADDED VALUE (LAGNIAPPE) INCENTIVE
Deluxe Disney Vacation for 2 (winner and guest) during 2021 Christmas Season (Not Thanksgiving or Christmas week)
Lodging: Deluxe Disney Resort such as Animal Kingdom Lodge, Saratoga Springs, Wilderness Lodging will be provided for 6 days/5 nights
Park Tickets: 4 Day Park Tickets
Meals: Disney Quick-Service Food Plan
Guided day through any 1 park of your choice
Estimated Retail Value: $5,000
***Winner and Guest must supply transportation to and from Orlando***
Vacation donated fully by Impact Acadiana Community Non-Profit
BUT THAT'S NOT ALL! Secondary prizes will be announced over time for additional winning chances. If you would like to donate an item as a prize for the drawing, please contact us or Impact Acadiana directly. !!!! DRAWING WILL BE ON OR AROUND HALLOWEEN 2020 which we hope to live cast on Facebook!!!!
HOW DO I HELP?
For every donation, your money goes where it is needed desperately and you are entered into the prize drawing.
$25 donation per entry gets you in the door.
$100 Donation gets you an extra entry, total 5 chances to win.
Can't swing the $25? That's ok. We'd be happy to take your donations under $25 and put them to the best possible use. Every nickel could make a difference to a suffering victim of nature's fury. How do you get in on this? We can receive donations via Paypal, Venmo, or a check. It is VITAL that you communicate in your donation which charity you are donating to support and how we can contact you if you win the contest. There is a comments section on both Paypal and Venmo where you can do this. Supporters of Louisiana Ghostbusters automatically have their funds sent to Rotary District 6200 Distaster Relief. Unspecified donations also default to Rotary District 6200.
Here's where to go to get in on this effort:
Paypal: [email protected] (Communicate Disaster Relief Charity and how to reach you if you win in Comments)
Venmo: impactacadiana (Communicate Disaster Relief Charity and how to reach you if you win in Comments)
Checks: Make payable to the above charity LISTED ABOVE of your choice or Impact Acadiana and list chosen charity in memo as well as HOW WE CAN REACH YOU IF YOU WIN.
Check should be mailed to:
Pam Trahan
Facts-5 Computer Repair Service
P.O. Box 698
Abbeville, LA 70510
Please answer this call. We certainly are, and you can too.