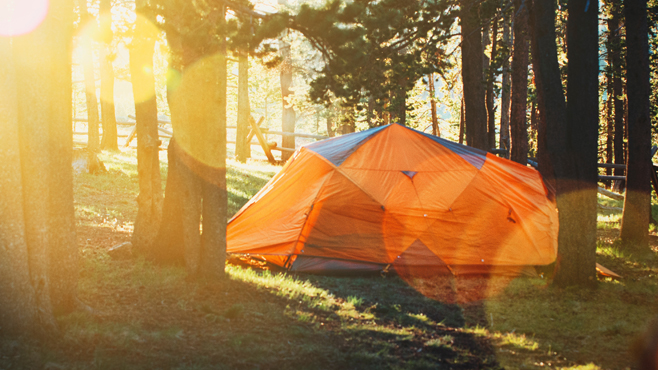 We've been in lock down so long that you may find things like video games, TV, and streaming apps no longer are keeping you… or your kids… entertained… This is totally understandable. I may not have kids, but I used to be one, and in a lot of ways I'm a big kid myself.
I remember when I was little my parents had a tent for "camping" although I think we maybe only used it once for actual camping. I thought it was the coolest thing, like a portable clubhouse. I would often ask my parents to set it up outside in the backyard, just so my friends and I could have a "hideout" with "no grown-ups allowed" where we could goof off. Sometimes even on rainy days my parents would let me set up inside the house, in the corner of our living room. Luckily it was a very small tent, so we would just rearrange the furniture temporarily to make space for it.
You would think it would be a pain to go though all that trouble just to set up a tent when you're not camping (especially when you're setting it up indoors) but it really doesn't take long. I also remember something else about that tent… Every time my parents set it up for my friends and I, they didn't hear a peep out of us! It kept us out of their hair for hours, sometimes even for a whole weekend! I bet that sounds very enticing to a parent during this stay at home order…
I was recently reminded of my love of playing in tents as a kid when I saw a friend post about setting up theirs for their kids to play in, to help keep them entertained since they've been stuck at home so long. The post simply said "Worth every penny and the kids aren't complaining about quarantine!"
Even if you don't have a tent, for the smaller ones (which are perfectly sized for kids) usually run $50 – $100. The bigger ones are more, but unless you have actual camping plans in the future for you and your adult sized family members, you can get away with just buying a small one. You may have to wait a little extra shipping time than before, considering the pandemic situation, but it might be totally worth the time it saves you trying to think of new ways to entertain your kids!