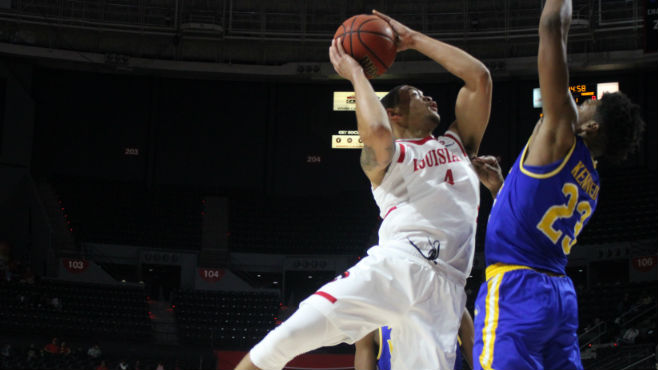 Saturday night at the Cajundome was an entertaining one to say the least with the Louisiana Ragin Cajuns staving off a rally in the final moments to come away with an 85-80 win thanks to some clutch free throws from Jalen Johnson.
How It Happened:
The Cowboys jumped out in front early thanks to Shamarkus Kennedy and A.J. Lawson. McNeese State was able to get out to a double-digit lead midway through the first half after Dru Kuxhausen drained all three of his free throws. However, the Cajuns fought back in the final two minutes of the first half, getting within one point off of a three-pointer by Jalen Johnson as the first half came to an end.
The Cajuns took that momentum into the second half and got out to a 9-0 run to take a 41-33 lead. It continued to be all Louisiana, getting out to as much as a 14-point lead thanks to a three-pointer from Cedric Russell.
However, that ad evaporated when McNeese State rallied off of a pair of turnovers by the Cajuns to get it down to a one-point ballgame with 29 seconds left in regulation. However, some late free throws made by Johnson secured the win.
Big Number: 75
The free-throw shooting for the Cajuns on Saturday was nothing short of impressive, going 75 percent from the charity stripe on the evening. In a matchup that was very evenly matched, that was the big number that separated the two teams.
Player of the Game: Cedric Russell
The Alexandria native's performance on Saturday night was much-needed for the team, especially throughout the second half, going 7-of-13 from the field in the final twenty minutes of the ballgame.
Next Up: Tuesday vs TCU; Tipoff at 7 pm