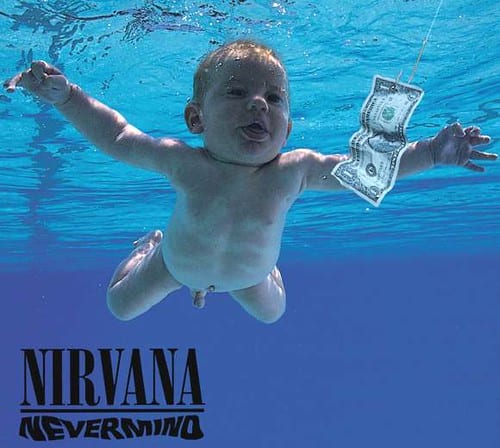 Nirvana's Nevermind is one of the most iconic album covers of the 90s… or, dare I say… the most iconic. Everyone knows the cover the moment they see it, even if they never listened to it. I even know people whose kids weren't even alive in the 90s who have this album in their collection. This week Nevermind turned 28 years old (today, September 24th to be exact.) It contained many of the band's biggest songs like "Smells Like Teen Spirit", "Come As You Are", "Lithium", and "In Bloom."
Now, back to that baby on the cover. His name is Spencer Elden, and yes he's a real person. When he was just a baby, his father got a call from his underwater photographer friend Kirk Weddle, who asked if he could use their newborn baby as part of a photo shoot. At the time, Nirvana was an up and coming band, so his parents probably had no idea how huge this album would become. His parents made $200 from the shoot, which lasted around 15 seconds. The fish hook with the money was added later to give it some intrigue. Spencer decided to recreate this album cover a few years ago as an adult, and you can find that image here. He also recreated the photo for Nevermind's tenth anniversary in 2001, for its 17th in 2008, and for its 20th in 2011.
Have you ever wondered what it feels like to know that millions of people have seen you naked? Here's what grown-up Spencer Elden had to say about that as well.
I have so many favorite Nirvana songs. I grew up in the 90s, and their music was a big part of my life. It's too hard to choose a favorite! My favorite 3 are "Heart-Shaped Box" from In Utero, "Smells Like Teen Spirit", and "Come As You Are" from Nevermind.