Don't lose your mind when you hear this, but the chicken sandwich which was the subject of so many conversations, lunch dates, and even restaurants being held at gunpoint until they replenishment the store with fresh chicken sandwiches, Popeye's has announced the date of the return of their popular sandwich.
Save the date, Sunday November 3rd which is National Sandwich Day, will mark the return of the popular sandwich at your favorite Popeye's restaurant. If you have been counting the days, you know it's been 63 days since you wrapped your jelly lips around the chicken sandwich.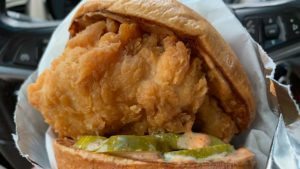 There is no telling what type of holy hell we can expect with the relaunch of the sandwich. I must admit, I am and has always been somewhat of a skeptic and cynical.  I believe and I have nothing to base my opinion on, but I think the famous sandwich being sold out during the introduction was just a huge ploy from the marketing department at Popeye's. Think about it, after the free press Popeye's received from the debut of the sandwich, how do you keep the public wanting more of the sandwich and how do you keep the media and public talking about the sandwich? Take it off the market and say the new sandwich is SOLD OUT! Really? With the technology available today, you want me to believe it took close to 90 days to replenish the stock of chicken sandwiches and what a coincidence, to relaunch the product on National Sandwich Day, I smell a rat in the kitchen, I think this was part of the marketing plan.
Seriously, I love food, after all, I am a Cajun from South Louisiana. I have to admit, I have never experienced any food item which would make me lose my mind.
Let's try not to go berserk with the second launch of the Popeye's Chicken Sandwich, coming November 3rd.
Update 10/30 6:26 am After enjoying dinner last night at Popeye's by the Northgate Mall I was speaking to an employee about the return of the chicken sandwich and she said the return of the famous sandwich will be Friday, November 1st. Enjoy!