Calm Down! This Chicken Sandwich thing is getting out of control. Yes, I would agree, the Popeye's sandwich is delicious and it was horrible planning for the restaurant to run out of sandwiches in the first two week period after making the introduction to America. Or was it all a ploy to run out of stock?
People love this sandwich and I have to admit, it is a damn good chicken sandwich. Most restaurants are out of stock as they catch their breaths for round 2.
According to KARK-TV in Houston, a local Popeye's got held up at gunpoint demanding with a group demanding this damn sandwich after a store employee said they were sold out. Now, personally speaking, this is taking the poulette sandwich to another level of breaking the law.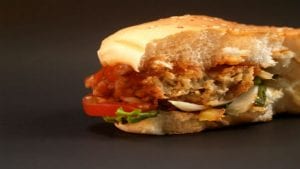 Here's how the deal went down. The group hit the drive-thru window just before closing time Popeye's location in the city's southeastern side at 7100 Scott Street. The employee stated the store was sold out.  Then the three men, two women and none the less a baby went breaking through the stores front doors flashing a gun. A quick-thinking employee was able to lock the second set of doors to keep the group out of the restaurant.
This is totally uncalled for and I'll say it, STUPID! It's a sandwich people. This is not a life or death situation. Just order the 3 piece box with fries and biscuit and call it a day. I would agree the Popeye's sandwich is one of the best I have ever tasted, but it's not worth taking a gun into the restaurant and demanding the sandwich. Give it a break.