Welcome To The Canteen/Street Corner Talking
The week On The Turntable we feature two more rock albums celebrating 50 years since their release …. The program will begin with "Welcome To The Canteen" – the first live lp from Traffic and finish with "Street Corner Talking" from Savoy Brown. A deep dig in our vinyl vault at The Rewind 1330/97.7
Welcome To The Canteen
Welcome to the Canteen is the first live album by Traffic. It was recorded live at two different venues in London in July of 1971 and released in September of that year. In the band's native land, the album was a huge disappointment and did not chart. In the U.S. however, the LP charted at 26 on the Billboard 200, delivering a single release of the live version of Gimme Some Lovin'. It was recorded during Dave Mason's third stint with the band, and includes a song from his Alone Together LP.
"Welcome To The Canteen" would be the last album Traffic would release under the band's North American distribution contract with United Artists Records; their next album The Low Spark of High Heeled Boys would be issued by Island Records and released just two months following the release of Canteen, undoubtedly cutting into sales of this underrated LP. Best Ever Albums Dot Com considers Canteen to be the 182nd best album of 1971. Side two features only two songs … Dear Mr. Fantasy and Gimme Some Lovin' – twenty minutes of pure Traffic bliss.
Notable Tracks – "Gimme Some Lovin', 'Forty Thousand Headmen', "Shouldn't Have Took More Than You Gave' 'Dear Mr. Fantasy'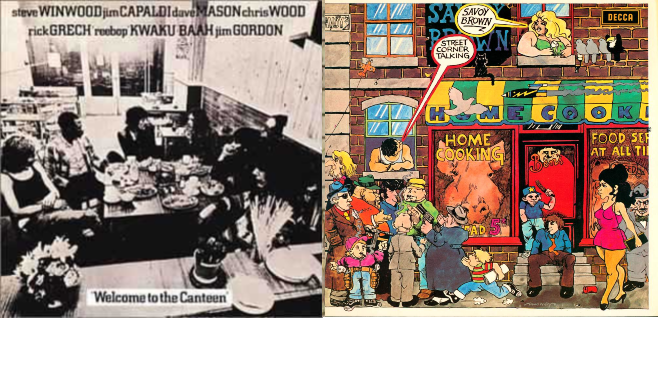 Street Corner Talking
We will dig very deep into the vinyl vault for this one … "Street Corner Talking" is the seventh studio album by the band Savoy Brown. It was the first album released by the band since the departure of Lonesome Dave, Roger Earl, and Tone Stevens who all went on to form the band Foghat. Kim Simmonds, the only remaining member of the group recruited a fresh line up and delivered this gem … Released in September 1971, the album did not deliver any singles … however it opens with 'Tell Mama' … a fantastic deep cut that sits in a couple of my playlists.
This LP has been a part of my library since 1971 … It is British Blues at its best … we are listening to my original copy on Decca Records .. and, as a side note … it has a very cool album cover .. Album art … pardon the pun …. It is a lost art … Best Ever Albums Dot Com considers the album to be the 401st best of 1971.
Notable Tracks – 'Tell Mama', 'I Can't Get Next To You', 'Wang Dang Doodle'
On The Turntable can be heard on-the-air on The Rewind 97.7 FM/1330 AM, on line at www.kvol1330.com and on The Rewind App. The program airs each Saturday evening at 6pm and is rewound Sunday Mornings at 7am.