Tupelo Honey/Somethin's Happening
This weekend, On The Turntable will offer up a 50th anniversary spin of Van Morrison's 'Tupelo Honey'. In the program we will also feature Peter Frampton's third LP …. Somethin's Happening …
Tupelo Honey
Tupelo Honey is the fifth from Van Morrison. It was released this very month in 1971 by Warner Bros. Records. Morrison had written all of the songs on the album in Woodstock, New York, before his move to Marin County, California, except for "You're My Woman", which he wrote during the recording sessions. The album reached number 27 on the Billboard 200, which was the highest position reached in the US by any of Morrison's albums at that point. This is by far, my favorite Van Morrison LP.
Like many of Van's early 70's releases, the critics were kind but sales lagged … by the middle of 1974, the album had only sold 350,000 copies … that is 50,000 more than Moondance … and each of these LPs are now known as classic staples to anyone's collection …. Three singles were released from the album … "Wild Night" cracked the top 40 on the Billboard 100 at number twenty eight and the title cut barely cracked the top 50 at 47. Best Ever Albums Dot Com considers Tupelo Honey the 55th best album of 1971 and the 474th best of the decade … Digital Dream Door ranked the album 42nd on it top 100 list for the year.
Notable Tracks – 'Wild Night' 'Tupelo Honey' '(Straight To Your Heart) Like A Cannonball' 'When That Evening Sun Goes Down'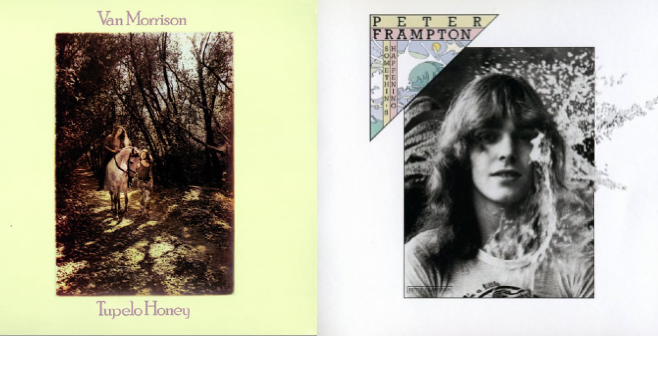 Somethin's Happening
'Somethin's Happening' by Peter Frampton, released in 1974. The album was Frampton's third in as many year and considered weaker than the other two; both have been featured here previously On The Turntable. The album is light on material; only featuring eight songs, however, there are some good tunes on this album.
The album reached #125 on the Billboard 200 album chart and did not produce any singles … However, three of the eight songs from it appeared in highly energized concert performances from 1975 on the extremely successful 'Frampton Comes Alive!' album. Side two features two keyboard performances from Nicky Hopkins. Best Ever Albums Dot Com considers 'Somethin's Happening' to be the 974th best album of 1974.
Notable Tracks – 'Sail Away' 'I Wanna Go To The Sun' "Doobie Wah'
On The Turntable can be heard on The Rewind 97.7FM & 1330AM each Saturday at 6pm. Listen over-the-air, on line @ www.kvol1330.com and on The Rewind App. The program is also rewound each Sunday morning at 7am. Archived programs can we found on www.kvol1330.com.