Imagine/Walls & Bridges
This weekend, The Rewind celebrates "Imagine" with a 50th anniversary spin … We will follow that with "Walls & Bridges" was also released in September, just three years later. It all happens during a John Lennon Weekend on The Rewind 97.7FM & 1330AM
Imagine
Imagine was the second studio album released by John Lennon. The lp was co-produced by Lennon, his wife Yoko Ono and Phil Spector. The opening track is considered to be Lennon's signature track. Supporting musicians included George Harrison, Nicky Hopkins, Klaus Voormann and drummers Alan White and Jim Keltner. Extensive footage was shot of the sessions for a documentary that was later scrapped. The album was a worldwide success topping the charts in both the UK and the US.
Many critics consider this John's greatest solo effort, and others, like myself prefer the first lp, John Lennon/Plastic Ono Band … although, Imagine is a fine, fine album and contains many of my favorite songs from the founding Beatle. Many of these songs can be found on the new remix boxset "Gimme Some Truth" which is fantastic. Imagine is listed in the book "1001 Albums You Must hear Before You Die. It was was voted 80th on Rolling Stone magazine's list of the 500 Greatest Albums of All Time. Best Ever Albums Dot Com considers Imagine to be the 15th best album of 1971, the 87th best of the decade and 347th best of all time. Digital Dream Door Dot Com ranked the album 10th on its year end chart.
Notable Tracks – 'Imagine' 'How Do You Sleep?' 'Jealous Guy' 'Gimme Some Truth'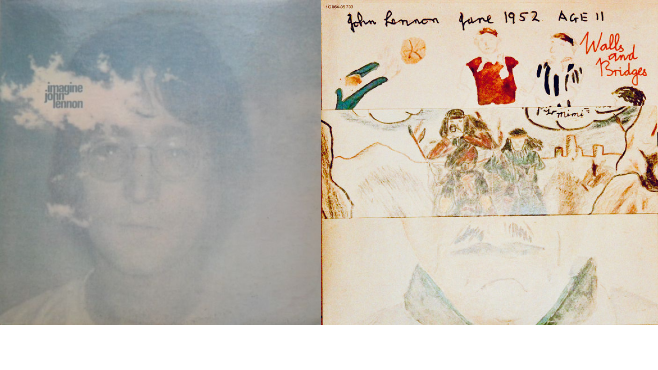 Walls & Bridges
Walls and Bridges is Lennon's fifth studio album, released September 26th 1974 in the US and this very weekend in the UK. The material for the album was written and recorded during his 18-month separation from Yoko Ono, known as his "Lost Weekend." The album delivered two singles, including "Whatever Gets You thru the Night" which became Lennon's first number 1 single on the Billboard Hot 100 as a solo artist.
Side two features the second of the two singles released from the lp … #9 Dream, which ironically topped the Billboard 100 at #9. Guest musicians included, Elton John, Harry Nilsson, Nicky Hopkins, Julian Lennon and Klaus Voormann. Though the album has been considered a comeback LP for Lennon, the critics did not necessarily agree; many considered it uneven or mailed in in effort. Best Ever Albums Dot Com considers Walls and Bridges to be the 55th best album of 1974 and the 629th best of the decade. Digital Dream Door Dot Com ranked the lp 94th on its top 100 list for the year.
Notable Tracks – "Whatever Gets You Through The Night' '#9 Dream' 'Going Down on Love' 'Nobody Loves You (When You Are Down and Out)'
On The Turntable can be heard each Saturday @ 6PM on 97.7FM/1330AM The Rewind. Listen over-the-air, on line @ www.kvol1330.com and on The Rewind App. On The Turntable is rewound each Sunday morning @ 7AM.