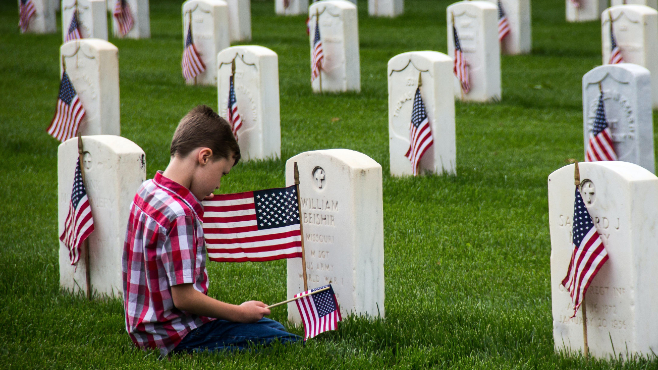 Memorial Day 2020 will be a little different than it has been in past years, with social distancing guidelines, travel restrictions, etc. Normally this holiday marks the unofficial start of summer, with barbecues and pool parties, even shopping Memorial Day sales will be different because of the limit on the number of customers in many retail stores.
So how will you be observing? The answer should be easy for all of us. The real meaning of this holiday has nothing to do with barbecues or shopping… It is a day to honor those who have died serving our country and protecting our freedom. It is a solemn day that many people confuse with Veteran's Day. Here's an easy way to remember the difference… According to the dictionary, the definition of "memorial" is something (such as a monument or ceremony) that honors a person who has died or serves as a reminder of an event in which many people died. In other words, Memorial Day = honoring those who died serving. Veteran's Day is honoring ALL veterans, both living and deceased. So this Monday is the solemn one, and it doesn't really make sense to say "Happy Memorial Day" as it is not a joyous holiday.
Even though it's a day of reflection, there is nothing wrong with enjoying the three day weekend with some good food and family fun, it will likely be difficult to do some of the things you did in previous years considering we are in the midst of slowly reopening our state. Here are some things you can do to honor our fallen heroes this Monday!
1. Fly the American flag! Many people already do this one.
2. Give your kids sidewalk chalk and encourage them to make patriotic drawings on your sidewalk or driveway. You can even use this as a learning tool for teaching them about the holiday.
3. Donate flowers to a fallen hero. Check with local cemeteries to see if they're accepting Memorial Day donations. There are quite a few in Lafayette, such as Greenlawn Memorial Gardens, Fountain Memorial Funeral Home & Cemetery, and Lafayette Memorial Park Cemetery just to name a few.
Or simply donate to Memorial Day Flowers, which is an organization that coordinates placing flowers for interred veterans.
4. Check out the TV specials. The "Parade of Heroes" special will stream on Facebook on Monday morning . . . the "National Memorial Day Parade: America Stands Tall" special airs on the major TV networks on Monday afternoon . . . and PBS will air its annual "Memorial Day Concert" on Sunday night at 7:00 P.M. Central.
5. Participate in the National Moment of Remembrance. At 3:00 P.M. on Memorial Day, we're supposed to pause for a moment of silence for those who've died serving in the military . . . and take at least one minute to send love, prayers, and thoughts.
Regardless of what you do this Memorial Day weekend, please do it safely!