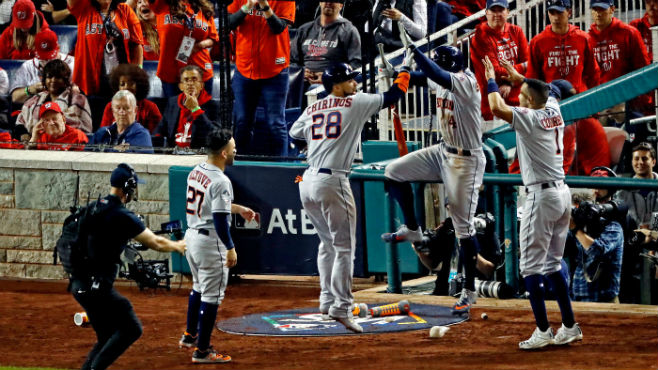 Friday night was an extremely important one for the Houston Astros facing a 2-0 deficit headed to Nationals Park in Washington D.C. Houston got exactly what it wanted from all parties involved with a 4-1 win over the Washington Nationals to make it a 2-1 World Series.
How It Happened
Josh Reddick got out of his slump in the top of the second with an RBI single off of a soft line drive to left field, scoring Carlos Correa.
Michael Brantley made it 2-0 in favor of the Astros in the top of the third when he got a grounder past Anibal Sanchez. However, the Nationals cut into that lead in the bottom of the fourth off of a well-hit ground ball by Victor Robles that rolled into left field after missing the glove of Alex Bregman to get Ryan Zimmerman across home plate.
The good times didn't last long though for the Nats with Michael Brantley hitting an RBI single to right field in the fifth. Robinson Chirinos sealed the deal for Houston in the sixth with a solo shot to left field.
BIg Number: 0
Despite a 4-1 loss, the Nationals had ample opportunities to get on the board. However, they just couldn't cash in going 0-for-10 with runners in scoring position. For comparison sake, the Astros went 4-of-10 with runners in scoring position on Friday night. This was exactly what they needed to do to get the win.
Player of the Game: Michael Brantley
Brantley made the most of his two hits to give the Astros a big win on the road to give this team and the city of Houston new life