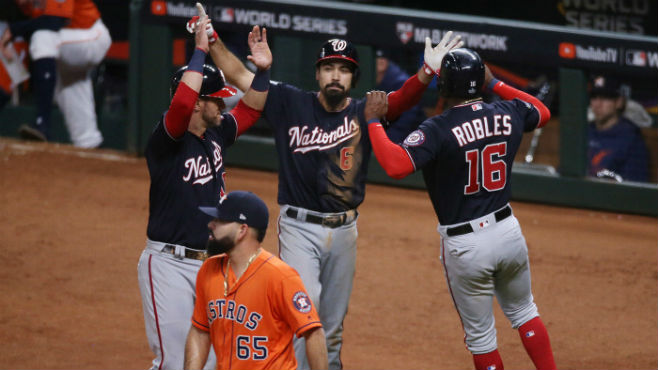 Heading into the seventh inning, it felt like everything was going the Houston Astros way in the decisive game seven. Zack Grienke was throwing one-hit baseball, the Astros were up 2-0, but the Washington Nationals roared back, eventually coming away with a 6-2 win to secure the franchise's first World Series title.
How It Happened:
The Astros were the first team to get on the board when Yuli Gurriel went yard in the bottom of the second. Carlos Correa gave Houston a 2-0 lead in the fifth when he hit an RBI single to Trea Turner, scoring Yuli Gurriel.
However, that all changed in the top of the seventh when Anthony Rendon blasted one out to left field to get the Nats on the board. Howie Kendrick followed that up later in the inning with a two-run homer to go up 3-2.
Juan Soto increased Washington's lead in the eighth with a line-drive single to right field, getting Adam Eaton across home plate. Eaton secured the Nats first World Series title in the ninth off of a fielding error by Jake Marisnick, scoring two runs in the process.
Big Number: 10
The Astros offense had a hard time cashing in on opportunities Wednesday night, stranding a whopping ten runners. Add the fact that the Astros only went 1-for-8 with runners in scoring position, it wasn't a good night at all for the home team.
Player of the Game: Howie Kendrick
Kendrick's two-run blast was the catalyst to the Nationals taking the momentum away from the Astros and securing their first World Series.