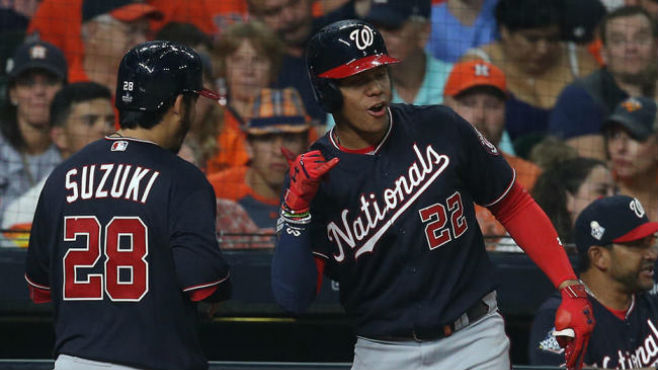 A big fifth inning was the key to victory for the Washington Nationals in securing a 5-4 win over the Houston Astros during game one on Tuesday night.
How It Happened:
The Astros came out the gates strong offensively with Yuli Gurriel getting a two-out, two-run double in the bottom of the first to score George Springer and Jose Altuve. However, Ryan Zimmerman cut the lead in half in the top of the second with a solo shot to center field.
Juan Soto followed that up in the top of the fourth, leading off the frame with a solo shot to left-center field to even things up at two runs apiece. 
Things went off the rails for Gerrit Cole in the fifth inning when the Nationals took control of the ballgame with a three-run inning highlighted by a two-run double for Soto that got Victor Robles and Anthony Rendon across home plate.
Houston tried to get a rally going in the bottom of the seventh when George Springer led off the inning with a solo shot out to center field. Springer got another run across in the eighth with an RBI double to center field, but that rally was quickly squashed once Sean Doolittle came in to get the save.
Big Number: 11
The Astros offense just couldn't cash in on opportunities, stranding 11 batters on the evening. It's even more disappointing when you realize they went 3-for-12 with runners in scoring position.
Player of the Game: Juan Soto
Soto was absolutely fantastic at the dish, going three-of-four for three RBIs on the way to a game one victory