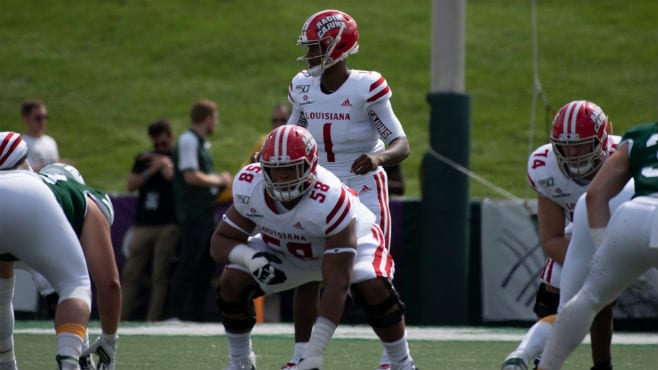 Led by a pair of 100-yard-plus rushers, the Louisiana Ragin' Cajuns (3-1) are off to their best start since 2012 with a 45-25 road victory over Ohio (1-3) on Saturday. The previous six seasons, UL had not started its first four games any better than 2-2 and went 1-3 to start four of those seasons during that stretch.
How It Happened
After punting twice, and turning the ball over on downs another time, UL finally got on the scoreboard on its fourth drive of the first quarter after a special teams miscue by Ohio.
Bobcats returner Jerome Buckner fumbled a punt and backup running back T.J. Wisham recovered the ball at the two-yard line. Former Erath High star Elijah Mitchell then scored on a 2-yard rush with 2:19 left in the first quarter. 
UL's defense dominated Ohio early on as the Bobcats managed a mere 36 yards on its first four drives which all ended with punts. Ohio finally got on the scoreboard with a pair of long field goals (48, 49) by Louie Zervos in the second quarter.
UL though would answer with a field goal of their own as time expired before halftime as Stevie Artigue made a 27-yard field goal which gave the Cajuns a 10-6 lead at the break.
In the third quarter, UL extended its lead with a pair of scoring drives. 
The first scoring drive began with a 35-yard pass from Levi Lewis to Ja'Marcus Bradley and was capped four plays later as Mitchell scored his second rushing touchdown of the day — another 2-yard score. 
UL's defense then stepped up as Kamar Greenhouse intercepted Ohio's Nathan Rourke and returned it 45 yards. A few minutes later, Lewis faked a handoff and found Nick Ralston for a 2-yard touchdown reception.
Ohio would respond with a 9-play, 75-yard touchdown drive capped by a 1-yard touchdown run by Ja'Vahri Portis but the ensuing two-point conversion failed and UL entered the final quarter with a 24-12 lead.
UL would add another rushing touchdown in the fourth quarter as Trey Ragas powered his way into the end zone from 15 yards out.
Ohio though would mount a comeback as the Bobcats took advantage of miscues by the Ragin' Cajuns.
After UL lost a fumble, Ohio would score on a 3-yard touchdown run by Portis, which was set up by a pass interference call on UL, but the two-point pass was intercepted. 
A promising drive by UL ended with a field goal attempt but Artigue missed the 37-yard attempt. Ohio then answered with a 49-yard pass from Rourke to Shane Hooks which set up a 21-yard touchdown pass from Rourke to Hooks. 
With 7:54 left in the fourth, UL clung to a 31-25 lead.
The Cajuns though were able to respond with a scoring drive of their own.
After a defensive pass interference call placed the ball at the 2-yard line, Mitchell would proceed to power his way into the end zone for his third rushing score of the game giving the Cajuns a 38-25 lead with 4:30 left in the game.
UL's defense then put the game away on the ensuing Ohio possession as Joe Dillon sacked Rourke who fumbled the ball which was recovered by Ja'Quane Nelson. Two plays later, Lewis found Bradley for a 3-yard touchdown. 
Ohio's final chance of scoring ended in the end zone when Asjlin Washington intercepted Rourke in the end zone with 3:03 left in the game.
Big Number: 8.5
The UL running back duo of Elijah Mitchell and Trey Ragas combined for 272 yards on 32 carries in Saturday's victory which came out to a very healthy 8.5 yards per carry for the two Ragin' Cajun rushers.
Player of the Game: Elijah Mitchell
The former Erath High star had a monster game for the Ragin' Cajuns as he led all rusher with 143 yards and scored three rushing touchdowns which were from two yards out. 
Next Up: Saturday at Georgia Southern; Kickoff at 5 pm