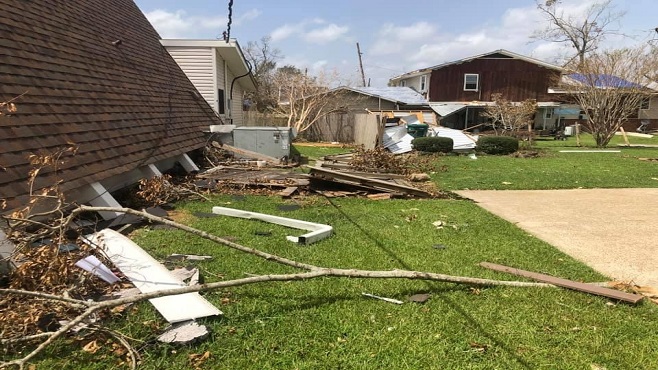 Utility companies in Acadiana are providing updates on restoring power to customers impacted by Hurricane Delta.
According to Entergy, the storm knocked out power to approximately 320,000 customers, with the majority being in the hardest-hit areas of Calcasieu, Cameron, Ouachita and East Baton Rouge parishes. As of 6 p.m. Saturday, the number of customers remaining without power was approximately 215,000.
Entergy said in a statement that estimated restoration times will be provided as damage assessments are completed.
According to Entergy, Delta had a larger wind field than Laura which caused damage and outages across a broader area of Entergy service territory in Louisiana.
In the statement, Entergy said "damage assessments could take up to three days."
Entergy customers can stay informed about restoration progress by downloading the Entergy App at entergyapp.com, visiting Entergy's View Outages map, signing up for text alerts by texting REG to 36778 and have your account number and ZIP code handy.
The registration pattern is as follows including spaces: REG (account number) (ZIP code). Once registered, text OUT to 36778 to report an outage. You can also report an outage online as a guest.
SLEMCO posted an update to its website on Saturday night.
The statement read, "As of 9 p.m. today, Saturday, Oct. 10, we have 70,282 customers without power. Crews continue to work on feeders, getting power back to many at a time. SmartHub is back up and running. Outages can once again be reported through SmartHub on your mobile device and our outage summary is live on our website. Outages can also be reported by calling 1-888-275-3626."
Cleco meanwhile released an update on its website Sunday morning.
The statement read, "As of 8 a.m., Oct. 11, Cleco had restored power to 59,330, or 45 percent, of the more than 132,000 customers who lost power due to Hurricane Delta."
If you are a Cleco customer and need to report an outage you can do so online through your MyAccount, text OUT to 2536 or text REG to register. You can also call customer service at 1-800-622-6537.