Arc Of A Diver/Riptide
This is the last On The Turntable program for 2020 … Though 2020 has had its challenges, it has been a good year On The Turntable.  And 2021 shows incredible promise, so many fantastic 50 year celebrations will take place in 2021 … we will 2020 with the 40th anniversary airing of Steve Winwood's critically acclaimed "Arc Of A Diver" and finish the program with Robert Palmer's "Riptide".
Arc Of A Diver
Arc of a Diver is the second solo studio album by Steve Winwood, released in 1980. Winwood played all of the instruments on the album. Featuring his first solo hit, "While You See a Chance" peaking at number 7 on the Billboard Hot 100.  This turned out to be Winwood's breakthrough album as a solo artist; the album peaked at number 3 on the Billboard 200. It took nearly 20 years for Winwood to establish himself as a viable solo act.
Establishing himself as a solo artist is an understatement … Winwood plays every instrument , wrote every lyric and produced and engineered the album himself …  Diver is listed in the book '1001 Albums You Must Hear Before You Die' … Best Ever Albums Dot Com considers Arc Of A Diver the 103rd best album of 1980 and the 877th of the decade … Digital Dream Door Dot Com ranked Diver #43 on is its top 100 list of 1980.
Notable Tracks – "When You See A Chance" "Night Train" "Spanish Dancer"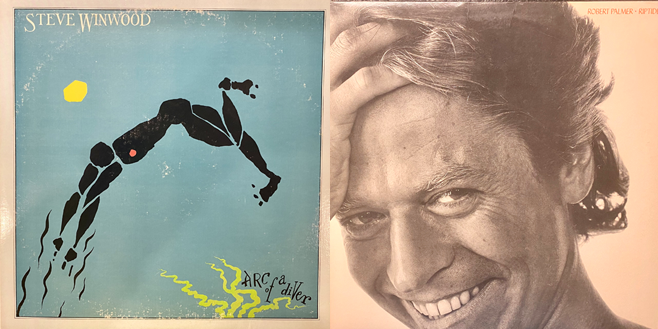 Riptide
Riptide is the eighth studio album by the late Robert Palmer …   The album was recorded over a period of three months in 1985, at Compass Point Studios in Nassau, Bahamas.  The album was released in November 1985, hot off the heels of his 'The Power Station' success … The album produced two top five singles on the Billboard Hot 100 and won Palmer a Grammy Award for Best Male Rock Vocal Performance for "Addicted to Love".
Riptid was a major commercial success … the album has been certified double platinum … it peaked at #8 on The Billboard 200 … Palmer collaborated with two of the members from The Power Station for this LP and it also features Chaka Kahn and other studio musicians … Best Ever Albums Dot Com considers Riptide to be the 214th best album of 1985 .. though I do not agree with that ranking … there are a half dozen albums in their top twenty that I find inferior to Riptide …  the album produced five singles, two in the top five.
Notable Tracks – "Addicted To Love" "Riptide" "I Didn't Mean To Turn You On"
Catch On The Turntable Saturday evenings at 6PM and Sunday mornings at 7AM on The Rewind, The Greatest Hits Of All Time … lister over-the-air on 97.7FM and 1330AM. Listen on line @ www.kvol1330.com and stream the program on the KVOL App.