The J Geils Band – The Bloodshot Tour – Cobo Arena – Detroit, Michigan – October 4, 1973
Any time The J Geils Band came to Detroit, it was a party.  The long before Aerosmith, J Geils, Peter Wolf and Magic Dick were rocking arenas across the the nation and people were dancing in the aisles.  It was not uncommon to find everyone on in the arena on their feet.  This show was no different.
This show took place just once month prior to their next LP – Ladie's Invited – was to be released and the band was in rare form.  What a show this was …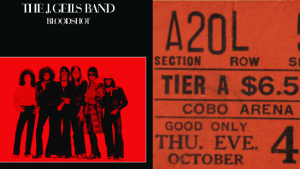 The band played everything from their stand-out live lp – Full House –  always a favorite since it was recorded in Detroit at the Cinderella Ballroom in April 1972; a show I also attended – This was big reason why Detroit has always been know as The J Geils Band's adopted city.
The band also covered all of Bloodshot.
I have an interesting piece of memorabilia from this show, beyond the ticket stub …(check out that price) … Magic  Dick was playing the tamborine and broke it.  He threw it on the stage, I grabbed it and still have it.
This is the best party band that I have ever seen.  One that should not be missed.