Leon Russell & The Shelter People/Getting Ready
This weekend, On The Turntable will spotlight two LPs celebrating 50 years since their release in 1971. Though they are of different genre, they share a record lable. We are talking about Leon Russell's "Leon Russell & The Shelter People" and Freddy King's "Getting Ready." Both LPs were released on Leon's Shelter Records. You hear them both in their entirety without interruption when you tune in Saturday or Sunday …
Leon Russell & The Shelter People
Leon Russell and the Shelter People is the second solo album by Leon Russell, released in 1971. It peaked at number 17 on the Billboard Hot 200 in the United States. Leon's accolades are monumental … every time that I present a post in various groups that I am a member of about a Leon LP, the comments go crazy. However, he has just not received the same treatment when it comes to sales … On side one of this favorite album of mine, Leon delivers one of the best Dylan covers ever with A Hard Rain's Gonna Fall.
Leon contributes lead vocals, guitar, piano and Hammond organ on the album … there is a bevy of rock heavy weights that also contributed .. Eric Clapton, Jim Keltner, Chris Stainton and two former Ikettes … Kathy McDonald and Claudia Lennear …. This album does an incredible job of portraying who Leon Russell was as musician. I had the pleasure of seeing Leon during the Carney Tour in 1972. It is still one of my favorite concerts of all time … Best Ever Albums Dot Com considers The Shelter People to be the 646th LP of 1971. In my opinion that is about 596 rankings too low. Side two features the song "The Ballad Of Mad Dogs and Englishmen" a song that many consider the highlight of the album.
Notable Tracks – 'Stranger In A Strange Land' 'A Hard Rain's Gonna Fall' 'The Ballad Of Mad Dogs and Englishmen' 'Alcatraz'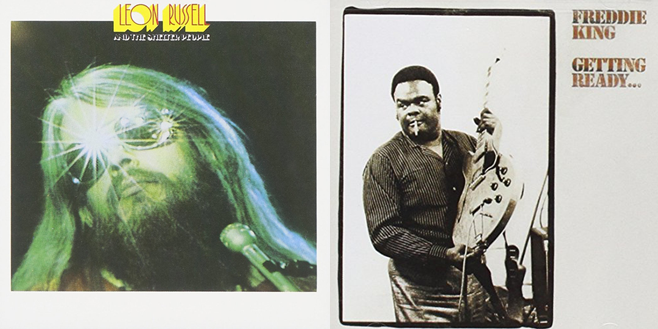 Getting Ready
On The Turntable is offering up a first this weekend … we have never played a complete blues album from a primarily blues artist … OTTT will offer up a 50th anniversary airing of Getting Ready from Freddy King … Ironically the album was released on Leon Russell's own label … Shelter Records …. The material on the LP is divided between Chicago blues standards and material supplied by Leon Russell producer Don Nix. Leon plays piano on the LP.
Freddy is is considered one of the "Three Kings of the Blues Guitar" along with Albert King and B.B. King, none of whom are blood related. I was fortunate to see Freddy and Albert on the same ticket at the Soda Pop Festival at Bull Island, Indiana in 1972. If you would like to read an interesting story … Google The Soda Pop Festival … You'll be somewhat amazed at the craziness … Side two begins with Freddy's cover of the blues standard Going Down which was written by producer Don Nix … a year later The Jeff Beck Group would cover the song which became, in my opinion one of rock's greatest guitar songs.
Notable Tracks – 'Going Down' 'Same Old Blues' 'Key To The Highway'
On The Turntable can be heard each Saturday at 6pm and Sunday at 7am on KVOL 1330AM/97.7FM The Rewind. Listen live over-the-air, on line @ www.kvol1330.com and on The Rewind App. The Rewind also has Alexa skills. Listen on your Echo device. On the Rewind App.