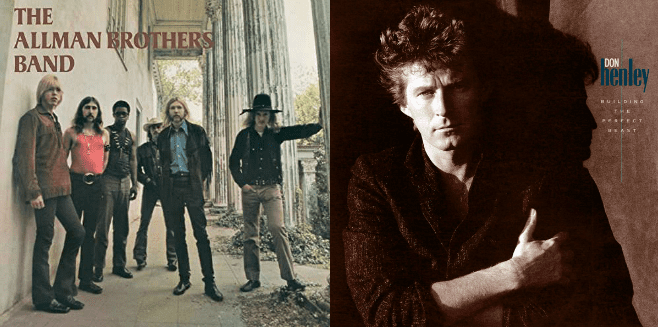 The Allman Brothers
The Allman Brothers is the debut lp from the Godfather's of Southern Rock … Released November 4, 1969 on two lables – Atco and Capricorn Records … The record initially received a poor commercial response, charting in the lower levels of Billboard's Top 200.  However … the critical acclaim was favorable … due to the poor sales record execs suggested they move to New York or Los  Angeles … For their part, the members of the band remained optimistic, electing to stay in the South.  And, thousands of Country Rock lovers south of the Mason Dixon have been very happy ever since.
This may be the best southern blues lp debut ever … the lp delivered many of the signature songs from The Allman Brothers Band and made up much of the At The Fillmore live lp … Besteveralbums.com considers The Allman Brothers Band as the 44th best album of 1969.
Notable Tracks – "Trouble No More" "Whipping Post" "It's Not My Cross To Bear" "Dreams"
Building The Perfect Beast
Building the Perfect Beast is the second solo studio album by Don Henley. The album was released 35 years ago on November 19.   The album was a commercial and critical success.  The album reached #13 on the Billboard 200 and is three time platinum.
For the album, Henley collaborated with a who's who of 70's and 80's rock … Henley leaned on member of Tom Petty & The Heartbreakers … Lindsay Buckingham, Belinda Carlisle, Jim Keltner, Waddy Watchell and more …. This album established Henley as a star in his own right, spawning four top forty hits and delivering a Grammy Award for "Boys of Summer" which would become one of Henley's most popular hits … and Four MTV Video Music Awards … Best Ever Albums Dot Com considers Building The Perfect  Beast as the 69th best album of 1984
Notable Tracks – "The Boys Of Summer" "All She Wants To Do Is Dance" "Sunset Grill"