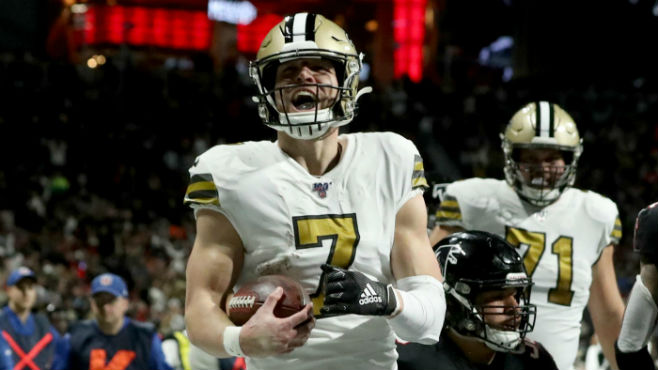 For much of Thursday night's contest between the New Orleans Saints and Atlanta Falcons, the end result wasn't in doubt. After Wil Lutz's fourth made field goal with 6:32 left in regulation to go up 26-9, it felt like all but a formality for the Saints to clinch their third straight NFC South title.
With a little luck, big penalties, and clutch special teams, the Falcons rallied back, but the Saints defensive line shut down Matt Ryan in the final moments to secure a 25-19 victory.
How It Happened:
The Saints defense established dominance early, forcing a three-and-out thanks to a Marcus Davenport sack on the first play from scrimmage. Taysom Hill then showed off his ability on special teams, blocking a punt to give New Orleans the football at the Falcons 30-yard line. Four plays later, Drew Brees pitched it to Hill for a quick three-yard touchdown to take an early lead.
The Falcons finally got on the board early in the second quarter when Matt Ryan connected with Jaeden Graham, but a missed extra point from Younghoe Koo made it a 7-6 ballgame. The Saints responded with an eight-play drive that was highlighted by a 40-yard reception from Jared Cook. However, two incomplete passes forced them to settle for a 22-yard field goal to make it a one-touchdown game.
Things looked a lot better though after Koo missed a 42-yard field goal late in the second quarter which set up a quick four-play drive that was capped off by a 30-yard touchdown run by Hill to make it 17-6. Koo redeemed himself in the final seconds of the first half, drilling a 45-yarder to make it a 17-9 ballgame as both teams headed into the locker room.
Things started to slow down for both teams early in the third quarter with both teams exchanging punts. The Saints broke up the scoring drought though with a 10-play drive that was highlighted by a 24-yard run from Alvin Kamara. However, the Saints had to settle for another field goal, this time from 47 yards out.
The next drive for the Falcons ended with an interception by rookie Shy Tuttle who rumbled down the field, bringing down Matt Ryan in the process. However, a block in the back pushed the Saints back to the Atlanta 49-yard line. The Saints couldn't cash in on the miscue, going three-and-out in the process. Matt Ryan gave the Saints another chance with  CJ Gardner-Johnson picking him off, giving the Saints a short field to work with. Lutz made it a 23-9 ballgame early in the fourth quarter with a 42-yard field goal. Another Falcons turnover that resulted in another field goal from the former Georgia State kicker looked to close the deal, but Atlanta wasn't going to go down that easily with a nine-play drive that was capped off by a 13-yard touchdown pass to former LSU Tiger Russell Gage, making it 26-15. However, a failed two-point conversion kept it an 11-point ballgame with three-and-a-half minutes left in regulation.
The Falcons had a chance to make it a one-touchdown game and were able to get the ensuing onside kick, which set up a 43-yard field goal from Koo.
Many members of Who Dat Nation were biting their nails at that point and it didn't get any better when the Falcons converted yet another onside kick. However, the Saints defense came up clutch on 4th and 8 with Cam Jordan getting his fourth sack of the evening on Ryan to secure the victory in Mercedes-Benz Stadium.
Big Number: 9
Just a few weeks ago, the Saints offensive line was demoralized by a Falcons defense that ranked towards the bottom of the league in sacks. The roles were reversed on Thursday night with nine sacks by New Orleans. This was the first time since 2001 that the Saints had nine sacks in a single game. Who was the opponent? Of course it was the Falcons.
Player of the Game: Cam Jordan
Cam Jordan came through Atlanta like a wrecking ball with four sacks on the evening, including the game-clinching sack on 4th-and-8. Jordan also etched his name in the history books as the first Saints to have four or more sacks in a game since Wayne Martin did it all the way back in 1997.
Next Up: Sunday, December 8th vs San Francisco 49ers; Kickoff at 12 pm