Children of The World/Prisoner In Disguise
Today's program will feature two pop leaning LPs …. We begin with Children of the World from Bee Gees and follow that with Prisoner in Disguise from Linda Ronstadt…
Children Of The World
'Children of the World' is the fourteenth studio album from Bee Gees and the second R&B leaning disc before the monster 'Saturday Night Fever Soundtrack' …. the album was released in 1976. The first single, "You Should Be Dancing", went to No. 1 in the US and Canada.  Three other singles were released, all of which reached the top 15 on the Billboard Hot 100.
The album definitely benefitted from the their biggest wave of popularity following the 'Main Course' album … There is a very good balance of their somewhat new Disco Sound and their ever popular ballads … It was definitely a precursor to 'Saturday Night Fever', which would propel the Brothers Gibb into one of the biggest Pop groups of all time …  Best Ever Albums Dot Com considers Children of the World to be the 212th best album of 1976 … Digital Dream Door Dot Com ranks the LP 75th on its year end top 100 list.  Side two features two of the four singles released …. Boogie Child and the title track.
Notable Tracks – "You Should Be Dancing", "Boogie Child", "Love So Right", "You Stepped Into My Life"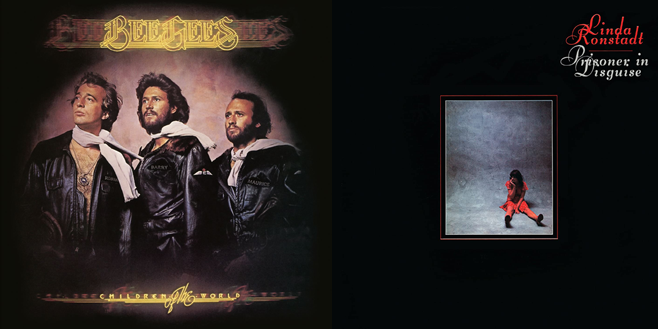 Prisoner In Disguise
I have said it before, and I will say it again … This lady could sing the phone book …  'Prisoner In Disguise' is Linda Ronstadt's sixth solo LP release, delivered this very weekend in 1975 … It followed her multi-platinum breakthrough album, 'Heart Like a Wheel' …. Though the album reached platinum status, it does not receive the recognition that is given to 'Heart Like a Wheel' or 'Hasten Down The Wind' …. This is a fantastic disc … it reached top five on both the Billboard 200 and Country charts … It delivered two Double A-side singles that reached the top five on the pop and country charts ….  On side one Linda covers Motown, Little Feat, and Neil Young … and does it perfectly … Lowell George plays steel guitar on Roll 'Um Easy … Nobody covers a song quite like Linda.
Side two offers much the same as side one …. She covers J.D Souther, Dolly Parton and Jimmy Cliff … Her cover of "I Will Always Love You" and "Many Rivers To Cross" are exceptionally good ….  Trisha Yearwood cited 'Prisoner in Disguise' as an inspiration, bringing the album to her producer at the start of her career saying, "This is the kind of music that I want to make…"  Best Ever Albums Dot Com considers the album to be the 193rd best of 1975 … Seems quite low to me..
Notable Tracks – "Heat Wave", "Love Is A Rose", Tracks Of My Tears", "I Will Always Love You"
On The Turntable can be heard on-the-air on The Rewind 97.7 FM/1330 AM, on line at www.kvol1330.com and on The Rewind App. The program airs each Saturday evening at 6pm and is rewound Sunday Mornings at 7am.