Urban Cowboy Soundtrack
This week, #OnTheTurntable takes the program in a different direction that normal when all four sides of The Urban Cowboy Soundtrack gets played. It has been 40 years since the movie Urban Cowboy gave Country Music a big ol' cowboy boot kick in the ass …. it starred John Travolta and Debra Winger … and the hit soundtrack was released this very weekend in 1980.
The 1980 romantic western film was directed by James Bridges … the plot concerns the love hate relationship between Bud and Sissy … played by John Travolta and Debra Winger … The film is said to have started the 1980's boom in pop-country music known as the "Urban Cowboy Movement" also known as Neo-Country or Hill Boogie.… The soundtrack spawned numerous hits on the Country, Pop and AC charts. Interestingly enough, side one did not include one country artist.
The album not only created many number one songs on various charts, it also featured songs that were already popular like Lyin' Eyes from Eagles and Devil Went Down To Georgia from The Charlie Daniels Band … Side two features Stand By Me from Mickey Gilley who's Honky Tonk in Pasadena, Texas was heavily featured in the film, and the number one "Can I Have This Dance" from Anne Murray.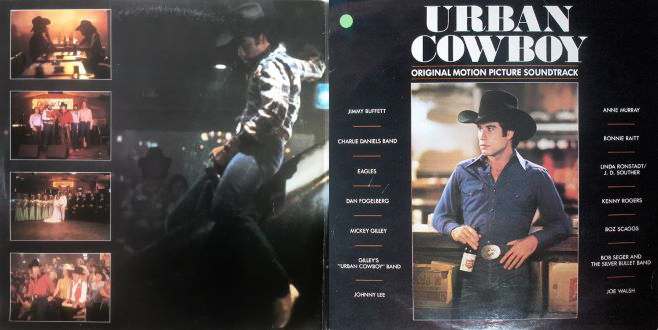 Side three of the soundtrack is the first side of the double album that entirely featured country artists … Lookin' For Love not only delivered a number one country hit for Johnny Lee, the song hit the top five on the Billboard Top 100, the highest charting song from the album.
For me, side four was the weakest side of the lp … even though it delivered one of the biggest ballads of the year in "Look What You've Done To Me" from Boz Scaggs … The lp created a country music craze all across America and boosted the sales of cowboy boots and hats, though many would say, at the time, JR Ewing was even more of an influence.
Notable Tracks – 'Lookin' For Love' "Look What You've Done To Me' 'All Night Long' 'Stand By Me' 'Lyin' Eyes'