The Allman Brothers Band – At Fillmore East
This weekend marks the 200th episode of 'On The Turntable' a program that we began back in 2017. Whew! It has been work, however, it has been an equal amount of fun. This weekend we will feature a special 50th anniversary airing of The Allman Brother's "At Fillmore East" .. All four sides uninterrupted….
At Fillmore East is the first live album by the Allman Brothers Band, and their third release overall. The album was released this very month in 1971.   The recording took place at the New York City music venue Fillmore East, which was run by concert promoter Bill Graham.  At Fillmore East was the band's artistic and commercial breakthrough. Side one features one of their most recognizable songs … 'Statesboro Blues'.
After 50 years, At Fillmore East remains one of the best live albums of all time … in spite of the lp only featuring seven tracks over four sides, it is the Allman's best selling record …. Side two features the nineteen minute jam … "You Don't Love Me" …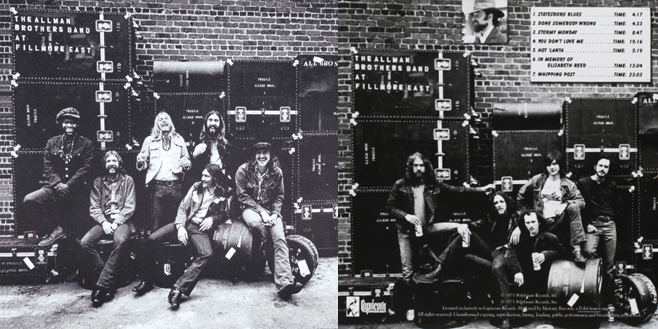 The LP is considered to be album that began the Allman's "Jam Band School of Music" .. though the band refuted that title claiming to be "a band that jams…" Side three features the thirteen minute instrumental jam – "In Memory of Elizabeth Reed"
The accolades for this LP are many … The Independent newspaper rated it the greatest live album of all time. It is featured in the book "1001 Albums You Must Hear Before You Die." Rolling Stone magazine ranks the album 49th on its "500 Greatest Albums of All Time" list … Best Ever Albums Dot Com considers "At Fillmore East" to be the 19th best album of 1971 and the 97th best of the decade. Digital Dream Door Dot Com ranked the LP 9th on this top 100 of the year. Side four is the twenty-two minute jam of "Whipping Post." It rocks!
Notable Tracks – 'Statesboro Blues' 'Whipping Post' 'You Don't Love Me' 'Stormy Monday'
On The Turntable can be heard each and every Saturday on 97.7 The Rewind. Listen over-the-air, on line @ www.977therewind.com or on The Rewind App. The program is rewound each Sunday morning at 7am.