So, yesterday (10/12/19) was National Album Day in the UK.  I found this out from and article that I read by Fred Jacobs, a radio consultant in Detroit.  BBC is promoting National Album Day by asking listeners to play their favorite lp, in it's entirety at 3:33 pm.  Interesting.
Why is this interesting?  First, most younger people today do not listen to albums.  They listen to songs.  When they do play an album they will play it in shuffle mode and not in the order it was intended to be heard.  Second.  Who sits around and listens to music today?  It was a very common past time when I was important to marketers.  (Not so much anymore that I am into Social Security age.) Sitting back and reading the album cover notes, inspecting the art work and relaxing in a big soft bean bag are a thing of the past.  I am old school.  I still listen to vinyl.  I still slap an lp on the platter and sit back in a big soft chair in my office and listen to an entire lp.  It relaxes me.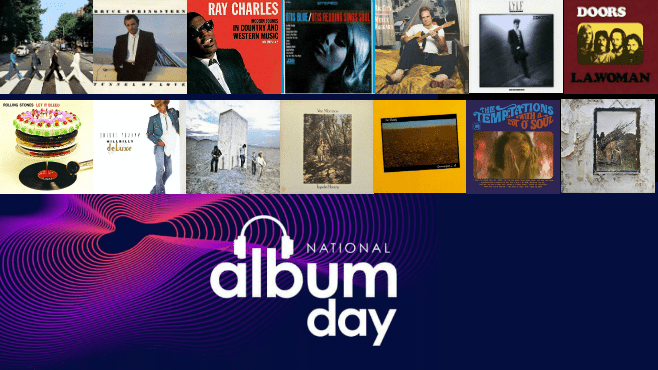 So, started giving this some thought.  If I were asked to play my favorite album at a certain time … which lp would I choose?  It was then that I realized that I do not have a favorite album.  I have a favorite group – The Beatles.  I have a favorite live band – Bob Seger.  But I do not have a favorite album.  Would this mean that I could not participate?
In the image above I have chosen some of my favorites – that right 'favorites' not favorite.  I think 'Let It Bleed' may be the best rock album ever produced.  Abbey Road is my favorite album from my favorite band.  Hillbilly Deluxe is my favorite album from a Country Artist.  Merle Haggard is my favorite Country Artist and Big City is my favorite lp of his which includes 'If A Buck Were Still Silver' which is one of my favorite Country tunes.  The Temptations With A Lot 'O Soul is my favorite album from my favorite Motown group, though I do not like it any more, or any less than 'Otis Blue – Otis Redding Sings Soul' … 'Tupelo Honey' from Van Morrison is my favorite Sunday Morning lp … and the list could go on and on.  I have a favorite Deep Purple lp.  I have a favorite Ray Charles lp.  I have a favorite Dean Martin lp.  I just don't have a favorite album.
So, it is a good thing that I was not in the U.K. yesterday; because it would a problem for me to participate … But I am not, and  …. EVERY DAY IS ALBUM DAY for me … and, that is a good thing.
It's  Sunday Morning …Guess I have to play Tupelo Honey … and maybe I'll follow that with L.A. Woman ….