Dire Straits & Business As Usual
This week On The Turntable we turn the page on two different decades and offer up two debut releases.  We will start with the eponymous debut from Dire Straits – this band from "over the pond" exploded onto the hit music scene in 1978.  We follow that with another band that exploded over night with their debut lp – Men At Work's "Business As Usual."
Dire Straits
Release Date – October 7, 1978
For rock n roll fans across America this album was a breath of fresh air from the Disco Crazed late 70's and featured the bands interpretation of pub rock already emerging by the time this lp was released … The album produced the hit single "Sultans Of Swing" reaching number four on The Billboard Hot 100 … The lp reached number five on the Billboard 200, however experienced much more success in Europe, reaching number one in Germany, France and Australia … some consider the lp being a classic case of wrong time, wrong place … Disco, Punk and New Wave were dominating the charts in the UK at the time.  Dire Straits eventually earned double platinum status in both the US and UK … Best Ever Albums Dot Com considers Dire Straits as the 12th best lp of 1978 … it is listed in the book "The 1001 Albums You Must Hear Before You Die.
Notable Tracks –  "Sultans Of Swing" "Down To The Waterline" "In The Gallery"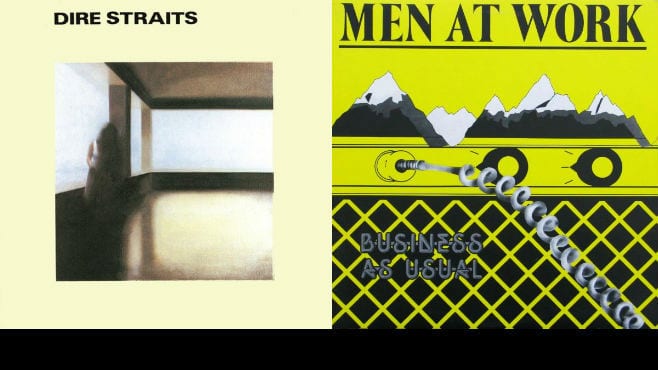 Business As Usual
Release Date – November 9, 1981, June 1982 (US)
This was the surprise album of the early 1980's.  Propelled by the hit single "Who Can It Be Now?," Business As Usual  spent an unprecedented 15 weeks at No. 1 on the US Billboard 200 from late 1982 to early 1983, the album was one of the most successful internationally successful lps from an Australian group.
The single "Down Under" introduced "The Vega-mite Sandwich" to Americans.  Men At Work were also one of the first "MTV Darlings" bands.  Their videos for "Who Can It Be Now?" and "Down Under" were played in high rotation on the cable music channel.
Notable  Tracks – "Who Can It Be Now?" "Down Under" "Be Good Johnny" "Down By The Sea"