A New World Record/When The Eagle Flies
This weekend, On The Turntable will dig deep into our Vinyl Vault for two 70's rock lps … each lp reached the top ten on the Billboard 200 though one was widely panned by the critics … We start with "A New World Record" from Electric Light Orchestra and finish the program with "When The Eagle Flies" from Traffic … both lps will be aired in their entirety … uninterrupted. Saturday at 6pm and rewound Sunday morning at 7am.
A New World Record   
A New World Record is the sixth studio album by Electric Light Orchestra commonly known as ELO. It was released this very month in 1976 on United Artists Records in the U.S., and in November on Jet Records in the United Kingdom. The album sold five million units worldwide within its first year of release.  A New World Record marked ELO's shift towards shorter pop songs, a trend which would continue across their career.  The album yielded four hit singles, including "Livin' Thing", "Telephone Line", "Rockaria!", and "Do Ya", a remake of the 1972 single by The Move, of which Jeff Lynne was a member between 1970 and 1972. 
Jeff Lynne reportedly regards this lp and the follow-up "Out Of The Blue" as the high points of ELO's history …. I have always found The Beatles influence in ELO's work, as far back as "Eldorado", and wasn't surprised from all of the collaborations with George Harrison later, including The Traveling Wilburys … Best Ever Albums Dot Com considers A New World Record the tenth best lp of 1976 and the 144th best of the 1970's … Digital Dream Door Dot Com ranked the lp 64th on it's Top 100 of 1976.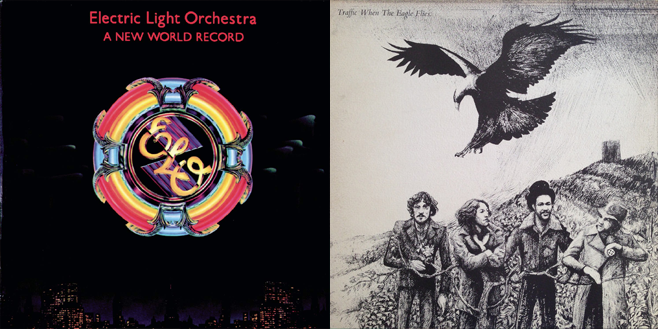 When The Eagle Flies
When The Eagle Flies is the seventh studio album released by Traffic, in September 1974. It was the final album released by the band until their 1994 reunion Far from Home.  The album is not a favorite of most fans of the band, however,  I have always enjoyed the lp …. It broke the top ten on the Billboard 200 peaking at number nine ….  The fourth consecutive Traffic lp to do so.
The band toured to promote the lp but broke up mid tour … Side two features on of my favorite Traffic songs … "Walking In The Wind"  …. Best Ever Albums Dot Com considers the lp to be the 219th best of 1974 …
Tune in Saturday at 6 pm and catch both lps in their entirety, without interruption. Listen over the air on The Rewind 97.7/1330, on line www.kvol1330.com or download the KVOL App.