21 At 33/Warren Zevon
The lps featured this weekend On The Turntable are probably the most diverse we have ever featured. 21 At 33 from Elton John – his 21st by his 33rd birthday and second lp from Warren Zevon which was delivered when he was 29.
21 At 33
21 at 33 is the fourteenth studio album by Elton John. Including other releases, such as live lps, soundtracks and EPs … it is the 21st official release, and was released when Elton John was 33 years old. John has not played any of the material in concert since touring in 1980, with the exception of "Little Jeannie", "White Lady White Powder" and "Sartorial Eloquence" … Side one features "Little Jeannie" which was huge hit for Elton, and in my opinion is as good a song as he has ever done.
21 At 33 features a who's who of performers … Nigel Olsson and Dee Murray join Elton for two songs … the album also features cameos from members from Eagles … Toto … Toni Tennille of Captain and Tennille fame and Peter Noone of Herman's Hermits … Best Ever Albums Dot Com considers 21 At 33 the 322nd best of 1980.
Notable Tracks – 'Little Jeannie' 'White Lady White Powder' 'Satorial Eloquence'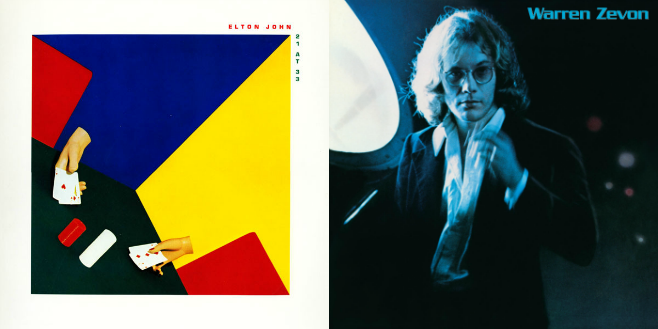 Warren Zevon
Warren Zevon is the eponymous second studio album by Warren Zevon. This album was recorded in 1975 and released on May 10, 1976, by Asylum Records. Zevon struggled to break through in his solo career, until his music was performed by Linda Ronstadt, beginning in 1976 with her album Hasten Down the Wind. Side one features Hasten Down The Wind and Poor Poor Pitiful Me, which Ronstadt recorded a year later and made it an instant classic.
Warren Zevon has been a favorite of mine for many years … Hasten Down The Wind, Poor Poor Pitiful Me and Carmelita are personal favorites and the lp also features Mohammad's Radio and I'll Sleep When I'm Dead which was also the title of his autobiography … Best Ever Albums Dot Com considers Warren Zevon the 34th best lp of 1976 and Digital Dream Door Dot Com ranked the lp 42nd on it's top 100 of 1980.
Notable Tracks – 'Carmelita' 'Poor, Poor Pitiful Me' 'Mohammed's Radio'