The River – Bruce Springsteen – November 8, 1980 – Reunion Arena, Dallas, TX
It was 39 years ago that I witnessed one of the most exciting concerts of my life – at that time … I was living in Longview, TX and The River was permanently placed on my turntable … I played this lp over and over …. it is still, to this day one of my favorite lps … The River Tour was coming to Dallas!  I couldn't wait.  I had seen Bruce four years earlier for the Born To Run Tour in Detroit and that show made me a fan.
This show was everything that I wanted and expected in this show … Bruce came out and exploded with 'Born To Run' … he rocked the house for four hours … 30 songs in all …  we left Reunion Arena exhausted ….  below is a picture to my actual ticket … (started saving these things in 1972 – didn't know why then, but I am glad I did now.)  $10.00 – what a bargain …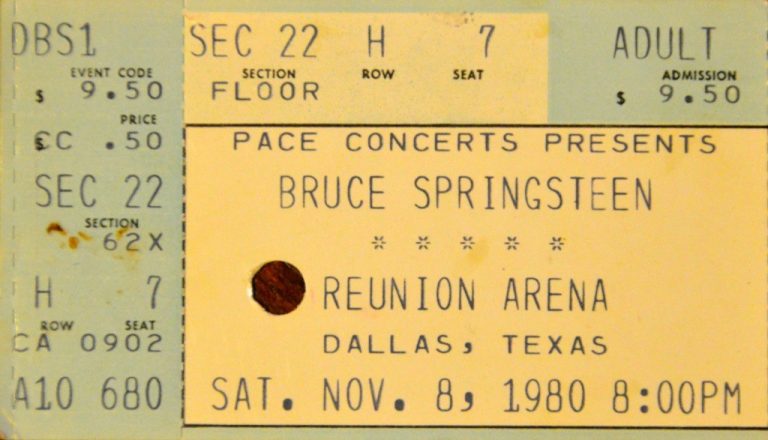 The River Plus! – Bruce Springsteen – April 5, 2016 – American Airlines Center, Dallas, TX
Imagine my excitement … Bruce announces The River Plus Tour!  He is going to do the entire River LP … 36 years later, this is still my first, or second, favorite Springsteen album.  (I vacillate between 'The River' and 'Tunnel of Love') And, he is performing in Dallas again – the site of  my original River Tour experience!  (I have done this one other time – The Who's Quadrophenia Tour and the 40 Year Anniversary Tour – both at Cobo Arena in Detroit)
Again,  Bruce did not disappoint.  Every song from The River was performed, in chronological order … all 21 songs from the album … then he rocked the house with another dozen songs, including a six encore set that included 'Born To Run' 'Dancing In The Dark' 'Rosalita' 'Tenth Avenue Freeze-Out' 'Shout' and wrapping up the show with 'Bobby Jean' from Born In The USA.

Two things made this show that were drastically different for me during this show … First, I was able to enjoy this show with my daughter … and second, and certainly not least, with fees, the $175 ticket price was a bit more that I spent in 1980.
If you have never seen The Boss … do it.  You don't have to agree with his politics … But, you will enjoy this storytelling and the energy that he puts into every show….