The Power Station/Glass Houses
This week On The Turntable we will listen to the eponymous debut from the 80's Super Group "The Power Station" and then feature a 40th annniversary airing of Billy Joel's "Glass Houses"
The Power Station
The Power Station is the eponymous debut album by the supergroup made up of members Robert Palmer, Andy and John Taylor of Duran Duran and Tony Thompson of Chic …. The original plan was a one-off LP as a respite from Duran Duran's constant touring, that was to feature a different vocalist for each song … However, when Robert Palmer heard they had recorded demos of Bang A Gong, he asked to try out vocal for that song and … it worked and the group decided to use Palmer for the entire album
… The album is called The Power Station … however, each format was given a different name … for instance … we will air "The Power Station Thirty-three & a Third" … the vinyl version … the CD was called The Power Station CD. The album reached number six on the Billboard Two Hundred … three singles were released and all three made the top 40 of the Hot 100 … Get It On (Bang A Gong) and Some Like Hot both breaking the top 10. Best Ever Albums Dot Com considers The Power Station to be the 331st best lp of 1985 … and Digital Dream Door Dot Com ranked the lp 35th in its top 100 of the year …
Notable Tracks – 'Get It On (Bang A Gong)' 'Some Like It Hot' 'Harvest For The World'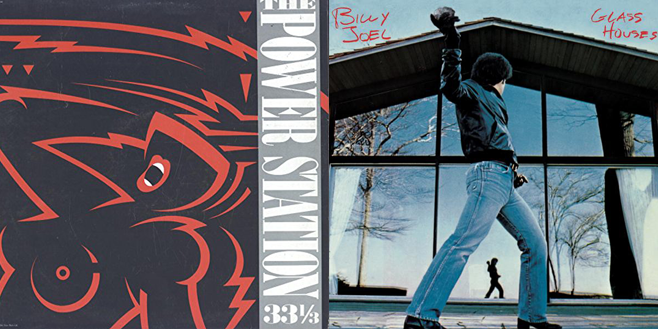 Glass Houses
Glass Houses, the seventh studio LP from Billy Joel … the album featured a harder, edgier sound from Joel and it paid off … Glass Houses delivered Joel's first Number One on the Billboard Hot 100 with "It's Still Rock and Roll to Me." … It also delivered the Grammy in 1981 for "Best Male Rock Vocal Performance"
The album topped the Pop Albums chart for six weeks and was ranked No.  4 on Billboard's 1980 year-end album chart. The album is the 41st best selling album of the 1980s, with sales of 7.1 million copies in the U.S. alone. Best Ever Albums Dot Com considers Glass Houses to be the 34th best album of 1980 and the 220th of the decade … Digital Dream Door Dot Com ranks the album 31st on its top 100 of the year.
Notable Tracks – 'It's Only Rock & Roll To Me' 'Don't Ask Me Why' 'You May Be Right'
On The Turntable can be heard on KVOL 1330AM/97.7 FM The Rewind each Saturday evening at 6pm. The program is also rewound Sunday mornings at 7am. Listen over-the-air, on line @ www.kvol1330.com and on The Rewind App.