Lionel Richie/Pointer Sisters – November 13, 1983 – McNichols  Arena – Denver, Co
In November 1983 I was working at KQSW and KRRK-AM in Rock Springs, WY.  The coldest place that I have ever been.  (And, I grew up  in Michigan).  Lionel Richie was burning up the charts with hit after hit from his  Can't Slow Down lp.  The album had been released just one month prior to the show and resulted in having five singles reach the top ten on the Billboard 100.
The show was opened by The Pointer Sisters who were also riding high with their lp 'BreakOut' which had been released just a week before the show.
This was an awesome show …  The Pointer Sisters had the entire house dancing in their seats and the arena stayed that way throughout the entire evening.  It was great fun.
Our Program Director, Brian Maloney, and I were invited to Denver to see the show and a weekend of experiencing the Denver nightlife.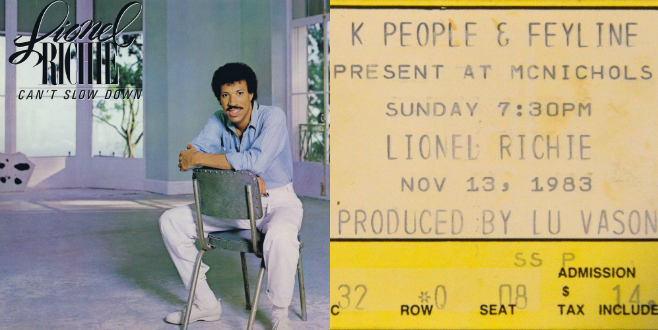 The show was on a Sunday night which posed a problem; Brian was also our morning man at KQSW and had to be on the air at 6am Monday morning.  No problem … We were young, energetic and figured if we left by 11am we could make the 5 hour drive with time to spare.
Welcome Mother Nature and November in Wyoming.  We headed north to Cheyenne and when we go to Wyoming we came upon a blizzard driving in dark desert night and could only make out the road by the mound it created in the snow!  This may have been my most stressful drive ever!  The planned five hour drive took seven and half hours!
But, hindsight being 20/20 – I am extremely glad we did it.