Get The Knack/Christopher Cross
This week, On The Turntable will  feature two rock lps from 1979 … both are debut albums …the first released in the summer, the second in the winter … we are talking about The Knack's … Get The Knack and the eponymous release by Christopher Cross … End of the decade releases that made a difference on how rock lps were approached a developed.
Get The Knack
This was the debut album by The Knack … it was released in June 1979 … it went gold in 13 days and eventually sold five million copies, making it one of the most successful debuts in history … In fact, the album became Capitol Records' fastest selling debut LP since Meet the Beatles! in 1964.
The lp that attempted to update the Beatles Sound for the new wave era … a good  idea that was well executed, but the critics cried foul … despite the backlash from the critics the album went to number one on the Billboard 200 … the lead single "My Sharona" also went to #1 on the Billboard Top 100 … The single Good Girls Don't also cracked the top 20 … Best Ever Albums Dot Com considers Get The Knack to be the 67th best lp of 1979 … Digital Dream Door Dot Com considers the  lp as the 17th best
Notable Track – 'Good Girls Don't' 'My Sharona' 'Let Me Out' '(She's So) Selfish'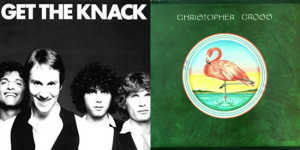 Christopher Cross
The self-titled Christopher Cross is a monumental debut lp … Digital Dream Door Dot Com considers Christopher Cross as the 67th best debut lp of all time …. The album won the Grammy Award for Album of the Year, famously beating Pink Floyd's The Wall .. which we will feature On The Turntable next week … also known as one of the most influential soft rock lps of all time … Christopher Cross was one of the early digitally recorded albums.
The lp was a huge hit and widely acclaimed … I find it strange that charting sites like Best Ever Albums Dot Com, Digital Dream Door and others do not give the album any love … Best Ever Albums Dot Com considers Christopher  Cross as the 109th best album of 1979 … It won a damn Grammy!  Digital Dream Door does not even rank it in it's top 100!  The album is rich in great tunes … even those beyond the obvious "Sailing" and "Ride Like The Wind"
Notable Tracks – 'Sailing' 'Ride Like The Wind' 'Never Be The Same' 'Say You'll Be Mine'