Bella Donna/All The Young Dudes
This week marks a milestone episode of On The Turntable … we have reached volume one hundred and fifty …   for this program we dig a little deeper into the vinyl vault for two rock lps… We will start with "Bella Donna" from Stevie Nicks and will conclude the program with a favorite of mine …. All The Young Dudes from Mott The Hoople …   
Bella Donna
Bella Donna is the debut solo studio album by Stevie Nicks. The album was released this very weekend in 1981.  The lp reached number one just six weeks later and reached platinum status in less than three months!  The album spawned four substantial hit singles during 1981 and 1982: the Tom Petty and the Heartbreakers-penned duet "Stop Draggin' My Heart Around," the Don Henley duet "Leather and Lace," her signature song "Edge of Seventeen" and country-tinged "After the Glitter Fades". Two of those singles are featured on side one & the other two on side two.
Bella Donna spent nearly three years on the Billboard 200 from July 1981 to June 1984. The album has sold over 4 million copies in the US alone … The lp left no doubt that Nicks could survive without Fleetwood Mac … Best Ever Albums Dot  Com, considers Bella Donna to be the 30th best lp of 1981 and the 309th best of the 1980's … Digital Dream Door Dot Com ranked Bella Donna number 13 on its top 100 list of 1981 …. The album was also included in the "Greatest of All Time Billboard 200 Albums" chart.
Notable Tracks – "Edge Of Seventeen" "Stop Draggin' My Heart Around" "Leather & Lace" "After The Glitter Fades"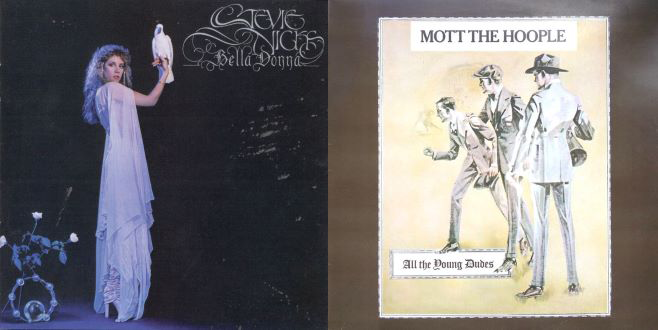 All The Young Dudes
We had to dig deep into the vault for this selection … We will feature my original copy of this lp, purchased in 1972 …. All the Young Dudes is the fifth studio album by Mott the Hoople ….  This lp was a turning point for the struggling British Band …  Mott the Hoople were on the verge of breaking up when David Bowie stepped in and gave them the song "All the Young Dudes". Rolling Stone rates the title cut at No. 256 in its list of The 500 Greatest Songs of All Time. It is also one of the Rock and Roll Hall of Fame's 500 Songs that Shaped Rock and Roll. Side one also features an excellent cover of Lou Reed's Sweet Jane.
David Bowie not only gave Mott The Hoople the title song, he produced the album … also suggesting the cover of Sweet Jane …  Guitarist Mick Ralphs subsequently became an founding member of Bad Company and reworked the song "Ready For Love," which became a monster hit for the super group.  The original is featured on side two….  the album is ranked 484th on Rolling Stone magazine's list of The 500 Greatest Albums of All Time.  Best Ever Albums Dot Com considers the lp as the 55th best of 1972 and the 555th of the 1970's.
Notable Tracks – "All The Young Dudes" "Sweet Jane" "Momma's Little Jewel" "One Of The Boys"