Diana Ross & The Supremes – Number Ones
The Rewind's Motown Weekend will start this Friday at 5pm, with three extra Motown selections each hour through midnight Sunday. On The Turntable is going to feature the 2015 vinyl release of Diana Ross & The Supremes #1s …. The program will feature all four sides of this 24 song compilation of Supremes and Diana Ross number one records on the Billboard 100.
The Supremes were the premier act of Motown Records during the 1960s. Founded as The Primettes in Detroit, Michigan, in 1959, the Supremes were the most commercially successful of Motown's acts and are the most commercially successful girl group in Pop history, with 12 number one singles on the Billboard Hot 100.
Time Magazine called The Supremes … "The Pride Of Detroit", due mostly to them deliberately embracing a more glamorous image than previous black performers … By 1965, the Supremes were international stars. They toured the world, becoming almost as popular abroad as they were in the US.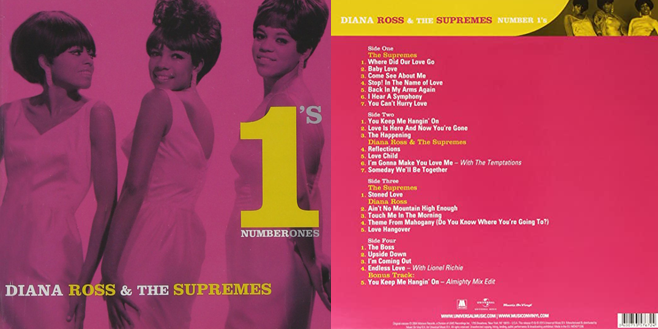 In the "that's hard to believe' department …The Supremes were twice nominated for a Grammy award but never won an award in competition. However three of their songs were added to the Grammy Hall of Fame: "Where Did Our Love Go", "You Keep Me Hangin' On" and 'Stop, In The Name Of Love." Side three will feature the last of the hits from The Supremes and feature number one solo hits from Diana Ross.
The original Supremes lineup was inducted into the Rock and Roll Hall of Fame in 1988, received a star on the Hollywood Walk of Fame in 1994 and entered into the Vocal Group Hall of Fame in 1998. In 2004, Rolling Stone placed the group at number 97 on their list of the "100 Greatest Artists of All Time." Though I haven't seen this particular list, that seems quite low … the group was one of the first black musical acts to appear regularly on television programs such as Hullabaloo, The Hollywood Palace, The Della Reese Show, and, most notably, The Ed Sullivan Show, on which they made 17 appearances.
Notable Tracks – "Where Did Our Love Go?" "Stop, In The Name Of Love" "Love Is Here And Now You're Gone" "Back In My Arms Again"