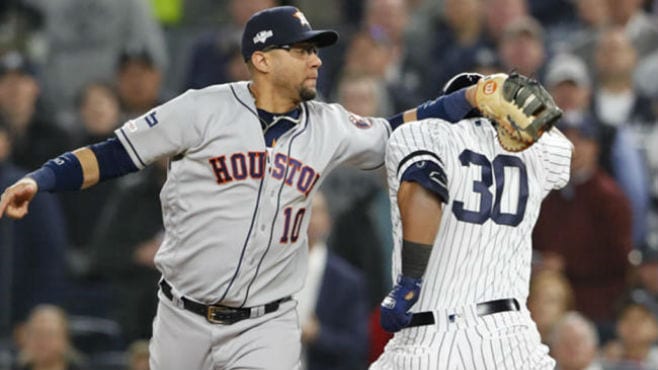 The Houston Astros struck early and often on Tuesday afternoon on the way to taking a 2-1 lead in the ALCS against the New York Yankees by the score of 4-1.
How It Happened:
Jose Altuve set the tone for the Astros early when he drilled one out to left-center field to get on the board. Josh Reddick followed that up in the top of the second when he sent one out to right field to make it a 2-0 ballgame.
Neither team could score a run until the top of the seventh when Jose Altuve scored off of a wild pitch by Zack Britton. Yuli Gurriel added some insurance runs later in the inning with a sac fly to left field, scoring Michael Brantley.
Gleyber Torres tried to get a rally going with a solo shot to right field, but that was all the Yankees could muster.
Big Number: 9
The Yankees had plenty of ducks on the pond, but couldn't cash in with nine runners left on base thanks to some solid defensive work.
Player of the Game: Gerrit Cole
Cole's streak of 10-strikeout performances may have come to an end, but his seven strikeouts in seven innings of work was more than enough to help lift the Astros to a big win in game three of the ALCS.