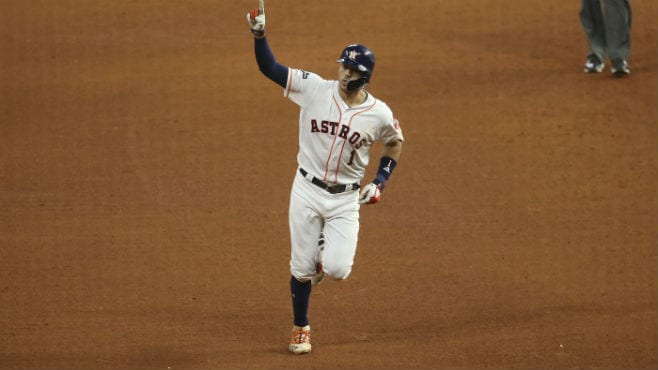 Carlos Correa is used to the big moments in the postseason. He had one two years ago to take a 2-0 series lead over the New York Yankees with a walk-off double. Fast forward to late Sunday night, the Houston Astros needed him to play the hero with the game tied up at 2-2 in the bottom of the 11th.
Mere seconds after FS1 returned to the broadcast of game two of the ALCS, Correa lifted one deep to right field and just like that, the ALCS was tied at one game apiece.
Correa got the Astros on the board in the bottom of the second with a sharp ground ball to former Astro Cameron Maybin to get Alex Bregman across home plate.
Aaron Judge responded in the fourth with a two-run shot out to center field to take a 2-1 lead. George Springer then tied things up in the bottom of the eighth with a solo shot of his own.
The Astros will now head over to the Bronx for Game Three of the ALCS with first pitch on Tuesday set for 3 pm. The red-hot Gerrit Cole will get the start for the Astros.